Ranch Escape Package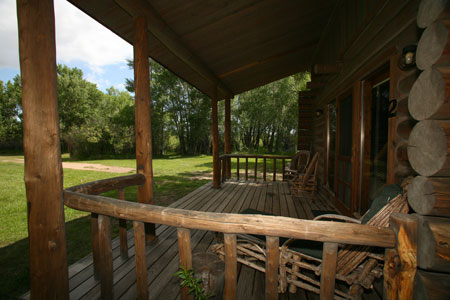 Enjoy the Vee Bar in the fall, winter, and spring!  The Vee Bar has been open for bed and breakfast since 1994, but this package allows guests to participate in more activities and meals at the ranch.  The Vee Bar staff will make sure that you get the most out of your vacation while exploring the Vee Bar, the Snowy Range Mountains, and local attractions.  Guests will need their own transportation to and from the ranch.  A three-night minimum stay is required to purchase this package.  See our Escape Package Sample Schedule for activity and meal details.
This package includes:
lodging, meals, horseback riding, guided hiking/snowshoeing, a horse-drawn wagon ride, fishing (seasonally), evening entertainment on select nights, and free keg beer and soda pop.
Prices: $260 per adult (18 and older), per night.
$220 per child (18 and under), per night
Free for children ages 5 and younger
Not Included in Package:
Transportation to/from the ranch
Beer (other than keg beer), wine, or liquor–but the John Wayne Saloon will have drinks for purchase!
No cattle work is offered September–May
No horseback rides go into the National Forest–hikes ARE in the National Forest!
Reservation policies
Three-night minimum stay.
Check in is anytime after 3 p.m. on the day of your arrival.
Check out time is before 10:00 on the day of your departure.
Activities are subject to change depending on seasonal conditions.
There are no refunds for activities that must be canceled, or for which there is no availability.  Availability is on a first-come, first-serve basis.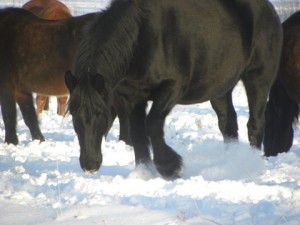 ---
Wagon Rides
Begin new traditions with your friends and family this winter at the Vee Bar Guest Ranch.  Treat your loved ones to a horse-drawn wagon ride through the beautiful Vee Bar meadows.  Enjoy hot chocolate or hot cider on the wagon and bring your own blankets to bundle up in!  Go back to the John Wayne Saloon for a game of cards and refreshments before dinner.  The maximum capacity on the wagon is 20-25 people and space is available on a first come, first serve basis.  Wagon rides are $20 per person, or check out the packages below!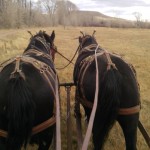 Family Pack–$40
Includes the wagon ride for mom, dad and the *kids!
*Kids are 18 years or younger
Friends Pack–$15 per person
Bring a group of 8 or more people (paying adults) and receive this discounted price!  The price includes the wagon ride for each person.  Kids 12 and under ride the wagon for free!
---
Music & Dining Specials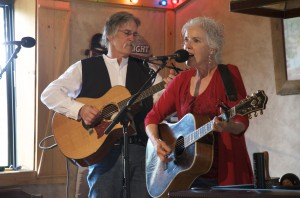 Come to the Vee Bar to enjoy music, dancing, and dinner.  The evening starts at 6 p.m. with a social hour, a band, great company, and cocktails.  Guests will be seated at 7 p.m. for a dinner buffet.  The band will continue in the saloon after dinner, and desserts will be served.
Reservations Required
No Cover Charge
Buffet-style dinner (menus vary)
Limited Space
You do not need to rent a cabin to enjoy dinner; you can come just to dine!
Dinners that are open to the public are: (Call the office for details 307-745-7036)
---
Ski Packages–Rates coming soon…
Stay at the Vee Bar Guest Ranch, Ski at Snowy Range Ski Area, get a discount on both!
The Vee Bar Guest Ranch and the Snowy Range Ski Area have partnered since 2013 to offer guests great discounts on both lodging and ski packages. It is a deal you won't be able to beat and an experience you will cherish forever!  At the Vee Bar Guest Ranch, a homemade breakfast is included every day!  The cabins along the banks of the Little Laramie River are the perfect place to get cozy, read a book, or play board games with other members of your party.  After a day of skiing, enjoy the clear Wyoming sky and count stars from the outdoor hot tub.  The John Wayne Saloon is the stage for a game of billiards, cards, or board games from our collection.  For the non-skiers in your party, or for the days you don't ski, the Medicine Bow National Forest provides miles and miles of snowshoeing and cross country ski trails.  Give our office a call at 800-483-3227 to schedule your winter vacation!
The Vee Bar Guest Ranch is located about 10 miles from the Snowy Range Ski Area.  After a day on the slopes, relax in your riverside suite or cabin, and soothe sore muscles in the outdoor hot tub.  The Vee Bar Ranch is made up of a main lodge building where the dining room, kitchen, and office can be found.  The riverside suites are located west of the main lodge along the banks of the Little Laramie River.  Each suite can sleep up to four people.  There are also three larger cabins that can sleep 5-8 people.  Each cabin/suite has one bathroom, a small refrigerator, and coffee maker.  The suites also have a washer and dryer.  On the property guests will also find the John Wayne Saloon, the barn which once served as a stage stop, and other shops and outbuildings.  A hot, homemade breakfast is served to guests each day of their stay, and included with the lodging rates.