Breakfast Buffet
Breakfast buffets feature fresh fruit, h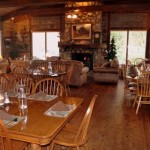 ome made breakfast breads and muffins, sunflower seed bread for toast, homemade granola, and a rotation of hot items such as French toast, pancakes, biscuits and gravy, sausage, bacon, eggs, and hash browns. A variety of juices, tea, and coffee are available with breakfast.  Please let us know in advance if you have any dietary needs.
Group and Company Dinners
Make dinner reservations for your next company party or group event.  Dinners will be served buffet-style and there are a variety of menus that will accommodate everyone in your gr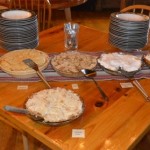 oup!  Maximum dining capacity is 50 people and the minimum group size is 12 people.  Please let us know in advance if anyone in your group has special dietary needs.  We recommend that your group schedules a social hour in The John Wayne Saloon one hour prior to dinner.  The Vee Bar has a full-service bar complete with a selection of beer, wine, and liquor.  We will work with you to schedule the perfect event!