Father's Day Weekend FUNdraiser!
Saturday, June 14, 2014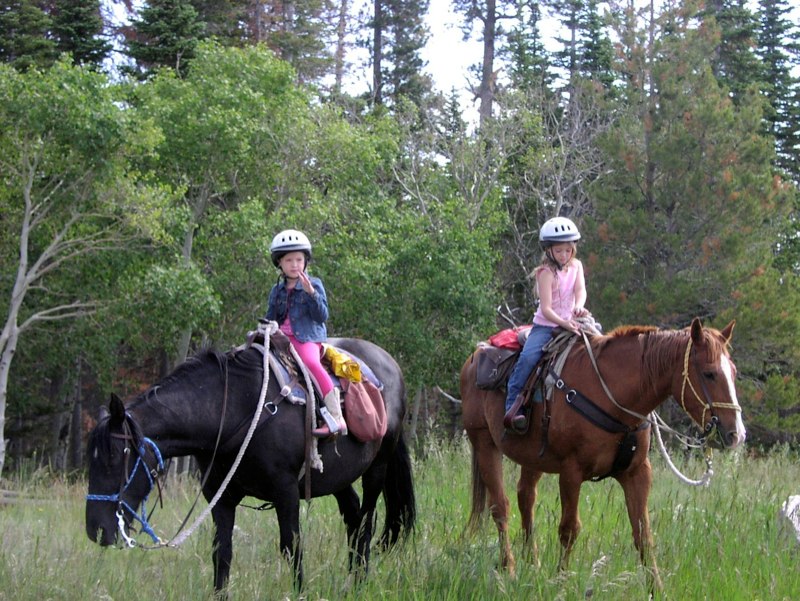 Saturday, June 14, 2014 The Vee Bar Guest Ranch is partnering with local charities for a weekend of fun, family, and giving!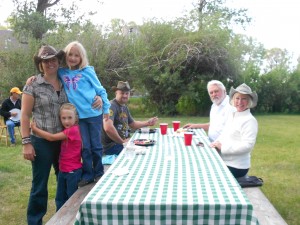 1:00—5:30 Horse-drawn wagon rides, petting zoo, old-fashioned fun & games, roping contests, pasture golf, and refreshments.
5:30—6:30 BBQ Pork Ribs & Chicken buffet (first come-first serve)
Sunday, June 15, 2014—Happy Father's Day!
8:00 Breakfast
9:30—11:30 Horseback Ride (only available for those guests spending the night at the ranch)
Cost for the overnight package is $97.90 per person.  Overnight package includes all the meals and activities listed above. 
Cost for Saturday afternoon activities and barbecue is $30 per adult and $15 for kids ages 6 and older.
*All proceeds will benefit Wyoming Children's Society and The Gene Team—IMD Clinic at Denver Children's Hospital.
Book a Wyoming ranch vacation at the Vee Bar Guest Ranch for a minimum 3-night package June 15-21, proceeds will go to Wyoming Children's Society and The Gene Team—Inherited Metabolic Disorders Clinic at Denver Children's Hospital.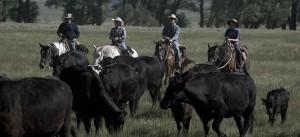 Summer guest ranch packages are fun for the entire family!  Horseback rides are scheduled at least twice per day.  Guests are assigned their very own horse for the week!  The Vee Bar's horseback riding program is second to none, and rides are designed to be progressive throughout the week.  We do not take nose-to-tail rides, and loping rides are an option!  In addition to horseback riding, guests may want to take a guided hike in the majestic Snowy Range Mountains, fly fish in the Little Laramie River, trap shoot, or walk trails at the ranch.  In the evenings guests will enjoy a variety of entertainment from wagon rides with live music to country dance lessons.  Other activities include private horseback riding lessons, cattle work, team penning, a breakfast ride, a geology tour in the Snowy Range Mountains, a working sheep dog demonstration, a camp out, river tubing, and a gymkhana.  The Vee Bar also has an outdoor hot tub to soothe sore muscles!  To bond with family even more, try volleyball, croquet, a game of horseshoes, roping, and board games.  View our sample schedule for more details!
Dining at the Vee Bar should not be underestimated!  Chef Dale has been cooking for guests at the Vee Bar for seven years.  All meals are included in summer packages.  Meals are set up as buffets.  Menus are family-friendly and hearty.  The Vee Bar will accommodate special diets (including vegetarian, gluten free, PKU and others). 
3-night package option (Sunday—Wednesday OR Wednesday—Saturday)
Package will include lodging, three meals per day, horseback riding, guided hiking, fishing, a campfire cookout, horse-drawn wagon rides, evening entertainment, and much more.  The price will be $600 per adult (for the first two) and $400 for kids or additional adults. 
6-night package option (Sunday—Saturday)
Package will include lodging, three meals per day, guided hiking, fishing, a campfire cookout, horse-drawn wagon rides, evening entertainment, a one-night camp trip, a day of cattle work, and much more.  The price will be $1000 per adult (for the first two) and $800 for each additional person in the same cabin. 
These rates are 50% off usual guest ranch rates!  If you have ever contemplated a guest ranch vacation, you won't find a better deal!  A 15% service charge is added to each reservation in lieu of tips.  There is also a 6% sales tax. 
About Our Charity Partners
Wyoming Children's Society
Wyoming Children's Society is a Wyoming based adoption agency serving birthparents, children, and families since 1911.  WCS has placed over 5500 children with loving families since its establishment in 1911.  Owners/managers of the Vee Bar Guest Ranch, Kari & Brent, are in the process of adopting through Wyoming Children's Society. 
The Gene Team—Inherited Metabolic Disorders (IMD) Clinic at the Children's Hospital Denver
The IMD Clinic at Children's Hospital Denver is one of the leading metabolic clinics in the world!  One of the most common diseases the clinic treats is Phenylketonuria (PKU), which is diagnosed in infants at birth.  Treatment for PKU is following a strict diet that is low in protein combined with a nutritional medical supplement.  PKU patients work closely with nutritionists (for life) at specialized hospitals across the U.S.  With proper treatment a child with PKU can grow up to lead a normal life.  Without treatment children are severely delayed, lack gross motor skills, and eventually live in group homes.  Adherence to diet is not easy, especially for teenagers and young adults.  Therefore a strong foundation and good support system is vital.  Denver Children's Hospital Inherited Metabolic Disorders Clinic provides its patients with the strong foundation they need, and a variety of networking opportunities.  For almost 10 years the Vee Bar has hosted a camp for children with PKU and other metabolic disorders.  Due to fundraising efforts of the metabolic team in Denver, the clinic is able to award patients with scholarships to PKU events, and help families purchase the expensive formulas and low protein foods that their children require.  The clinic in Denver continues to serve its adult patients as well, since there are no adult clinics for PKU.  The manager of the Vee Bar, Kari, and her daughter, Bailey have PKU and are life-long patients at Denver Children's Hospital.  To make a direct donation please visit http://www.couragetours.com/2014/team/thegeneteam
A note From Laurie Bernstein, Team Captain of the Gene Team
"The Gene Team is 15 years strong. We raise money for families that cannot afford the very expensive life sustaining metabolic formula and low protein food. Our team rides in The Courage Classic for the benefit of The Children's Hospital and when we raise >$50,000 (last year we raised $122,700 and had 96 riders on our team) all the dollars we raise stay in the IMD clinic.
"The dollars earned help us to support our PKU camp at The Vee Bar in Wyoming (we are able to support 10 families a year at camp), family support to parent conferences, (this year we plan to send 5 families to The National PKU Alliance conference and 5 families to the Galactosemia Foundation Conference and we sent 4 families to Network PKU), and the support of our Low Protein Food store, where we are able to subsidize what our families purchase.  We helped purchase a new Oroboros Oxygraph 2K. This high tech equipment diagnoses mitochondrial diseases earlier, without painful surgical biopsies of muscle or liver tissue.  We bought I-pads and software that are used every day to teach dietary management techniques to parents and teenagers coping with metabolic diseases.
"The Gene Team supports many research projects within the section of Clinical Genetics and Metabolism, research that affects the quality of life.
We are The Gene Team. We are a team of heart. Join us! We need your help to pay it forward.  Gratitude to our Sponsors for this year's ride: Join them in supporting our kids…
Biomarin is back as our Platinum Sponsor
Cambrooke is back as our Silver Sponsor
Mclane is back as a Silver Sponsor and supporting all of their riders. That's pretty GOLDEN!
Nu Motion is our New Bronze Sponsor
SVE is back as our Bronze Sponsor
Vitaflo is back as a BronCO Sponsor
Nutricia is back as a Copper Sponsor
Legends is back and supporting our team.
Primal is back and supporting our team.
With gratitude and love to all of you.
Laurie Bernstein MS RD FADA
Page Lambert's "Literature and Landscape of the Horse" Retreat
May 31–June 5, 2014 – Anybody is Welcome  
(SOLD OUT!)
Article on Forbes.com: A Week On An Authentic Wyoming Ranch – Reading, Writing and Riding
Go to the retreat sponsors website, www.pagelambert.com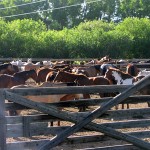 A horse is an instinctive animal. Humans, too, are instinctive creatures. Our natural environment is not between four walls. Horses teach us about living in the present moment. They remind us to be engaged with the world. They understand fear. They understand courage. They "think" with their entire beings. We'll get to know our horses from the ground. We'll get to know our horses from their backs. We'll ride in small groups formed by our various comfort levels. We'll ride among cows and newborn calves in mountain meadows. We'll ride together across open grasslands and on forested mountain trails. We'll share our favorite horse stories and explore the creative heart of writing.
"I loved everything about Page's Literature & Landscape of the Horse retreat at the Vee Bar.  I haven't felt as refreshed from a trip in years — it just filled me up!  It was truly was one of the top five vacations/retreats of my life!"~ Lisa Couturier, author of The Hopes of Snake and Other Tales from the Urban Landscape
Ranch Jubilee!
July 6-12, 2014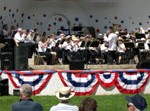 The Vee Bar Ranch Jubilee will coincide with Laramie's Jubilee Days. Besides the horseback riding, riding lessons, hiking, fishing, evening entertainment, campouts, and more, Laramie has its own share of festivities to offer. Local rodeos, professional bull riding, petting zoos, carnivals, street dances and more await travelers who are young at heart. The week begins on July 4th with a fireworks show in Centennial, 7 miles from the ranch. That will only be the beginning of a fun-filled vacation at the Vee Bar!  The Laramie Jubilee Days Committee does not finalize it's schedule until much closer to the event, but the rodeos are usually the culmination of the festivities.  If you would like to go to the rodeos, performances are usually on Friday and Saturday nights and Sunday afternoons.  You might want to consider staying an extra night (Saturday night) at the Vee Bar to get the most out of Laramie Jubilee Days.  On Saturday, July 12th the downtown streets of Laramie are blocked off for street fairs, a carnival, a chili feed, live music, a beer fest, and much more.  The parade through Laramie begins at 10:00 on Saturday–watch for the Vee Bar float!  Laramie Jubilee Days is the only Statehood Celebration in the state.  Wyoming was admitted into the Union as the forty-fourth state on July 10, 1890.
Hands-On-Horse Week
August 3-9, 2014 – Anybody is welcome!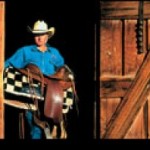 Engage yourself in this week of guest ranch festivities and become educated at the same time.  Have you ever wanted to learn more about what it takes to care for a horse?  Have you ever wanted to learn how to saddle and unsaddle your own horse?  This week is for you.  We will have plenty of hands-on opportunities for you as well as some demonstrations.  We'll also have special groups for kids ages 6-12 when appropriate.
Along with our trail riding program, we'll have instruction on the basics of horse care:  grooming, picking hooves, recognizing and treating small wounds, and more.  A large part of enjoying horses is understanding them.  We'll take you into the mind of a horse so that you are aware of what your horse is thinking.  Also enjoy some demonstrations on training a horse at different levels—yearlings, 2-year-olds, trail horses, and show horses.
Along with saddle horses (those that are ridden) we'll introduce you to our draft horse team, Waylon and Goliath.  We'll show you the basics of harnessing and hitching up a team of horses.  If you're lucky, we may even show you how to drive them (from the ground)!
What would a little education be without some fun?  Of course we'll have a great time out on the trails, doing cattle work, on our mountain ride, at our campout and during the gymkhana.
Adult Only Week
Aug 24-30, 2014–
SOLD OUT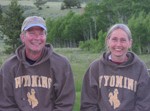 Although the majority of our summer is dedicated to families with kids, a week that has been growing in popularity over the past couple of years is back again! The Adult-Only week is for couples, singles, men, and women. You'll enjoy horseback riding, hiking, fishing, and other activities at the Vee Bar as well as evening entertainment and meals. Last year, this was the first week to completely fill up so call early for your reservations!