Page Lambert's "Literature and Landscape of the Horse" Retreat
May 31-June 5, 2014 – A unique adventure for anyone who yearns for nature, longs to reconnect with horses, and hungers for creative inspiration in an authentic western ranch setting.
Article on Forbes.com: A Week On An Authentic Wyoming Ranch – Reading, Writing and Riding
Go to the retreat sponsors website, www.pagelambert.com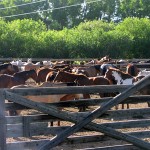 Horses have been studying humans from across the safety of a river, or from the overlook of a high ridge, for thousands of years. The oldest archeological evidence links horses and humans as far back as 400,000 to 600,000 years ago—not as companions, but as prey and predator. We may never know when the first horse and human ever looked into each other's eyes with a mutual respect and fascination, yet horses have been part of the human heart since time immemorial. They have been our faithful friends—carrying us from the wind-swept steppes of Mongolia to the tall grass prairies of America.  During this 5-day retreat, you will see Wyoming through the eyes of your horse!  Facilitators Page Lambert and Sheri Griffith team up to make this retreat one of the very best!  Page Lambert has presented at over 200 seminars, workshops, and conferences and has been leading outdoor writing adventures for 17 years. Her River Writing Journeys with Sheri Griffith Expeditions were written up in 2006 in Oprah's O magazine as "One of the top six great all-girl getaways of the year." Al Gore's editor Leigh Haber called her a "Horse-whisperer for writers."
Legendary adventurer, Sheri Griffith, and her company Sheri Griffith Expeditions, have taken people down some of the wildest rivers in the U.S. including the mighty Colorado. Travelers have hopped on a raft with her from Costa Rica to Nepal. She has been featured in magazines like Outside, Shape, and National Geographic Traveler.
"Horses have their own strong feelings, their own body language (since they have no words) and the sensitive horseman reads their ways and feelings, creating a partnership that is enjoyable, rewarding and connected.  I call it the soft connection," says Sheri.
We'll ride among cows and newborn calves in mountain meadows. We'll ride together across open grasslands and on forested mountain trails. We'll share our favorite horse stories and explore the creative heart of writing.  Page and Sheri, together with the Vee Bar Guest Ranch, look forward to welcoming you to the Literature and Landscape of the Horse Retreat!
*Excerpts taken from http://pagelambert.com/horse_literature.html.  
Ranch Jubilee!
July 6-12, 2014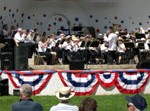 The Vee Bar Ranch Jubilee will coincide with Laramie's Jubilee Days, which celebrates Wyoming's Statehood Day (July 10).  Besides the horseback riding, riding lessons, hiking, fishing, evening entertainment, camp-outs, and more, Laramie has its own share of festivities to offer. Local rodeos, professional bull riding, petting zoos, carnivals, street dances and more await travelers who are young at heart.  PRCA rodeos take place on Friday, Saturday, and Sunday (July 11-13).  On Saturday there is also a parade, brew fest featuring many of Wyoming's favorite microbreweries, a chili feed, and much more.  The Vee Bar enters a float in the parade on July 12th.  We recommend staying at the ranch on Saturday night to get the most out of Jubilee Days!  You would want to add the "Saturday Night B&B option" to your reservation to accomplish this!
Hands-On-Horse Week
August 3-9, 2014 – Anybody is welcome!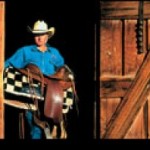 Engage yourself in this week of guest ranch festivities and become educated at the same time.  Have you ever wanted to learn more about what it takes to care for a horse?  Have you ever wanted to learn how to saddle and unsaddle your own horse?  This week is for you.  We will have plenty of hands-on opportunities for you as well as some demonstrations.  We'll also have special groups for kids ages 6-12 when appropriate.
Along with our trail riding program, we'll have instruction on the basics of horse care:  grooming, picking hooves, recognizing and treating small wounds, and more.  A large part of enjoying horses is understanding them.  We'll take you into the mind of a horse so that you are aware of what your horse is thinking.  Also enjoy some demonstrations on training a horse at different levels—yearlings, 2-year-olds, trail horses, and show horses.  You may want to take advantage of our riding lessons (private or in small groups).
Along with saddle horses (those that are ridden) we'll introduce you to our draft horse team, Waylon and Goliath.  We'll show you the basics of harnessing and hitching up a team of horses.  You may also learn how to drive them (from the ground)!
What would a little education be without some fun?  Of course we'll have a great time out on the trails, doing cattle work, on our mountain ride, at our camp-out and during the gymkhana.
Adult Only Week
Aug 24-30, 2014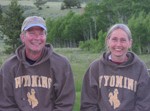 Although the majority of our summer is dedicated to families with kids, a week that has been growing in popularity over the past couple of years is back again! The Adult-Only week is for couples, singles, men, and women. You'll enjoy horseback riding, hiking, fishing, and other activities at the Vee Bar as well as evening entertainment and meals. Last year, this was the first week to completely fill up so call early for your reservations!