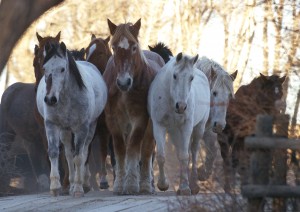 The Vee Bar horse herd is made up of a variety of breeds, colors, and ages.  Unfortunately, there are few of which we know the entire history.  About half of the horses that we currently own came from a lessor that the Vee Bar had used for a number of years.  The horses came to us summer after summer, and every fall they returned to their home near Riverton, Wyoming.  Some were only there for a couple weeks before they were shipped to their next job at a hunting camp.  They were all well-cared for and seemed pretty youthful.  The owner of this particular horse-lease company was diagnosed with cancer and chose to sell his herd.  The Vee Bar had the first chance to buy all 15 horses that had been leased from him–a great deal for the Vee Bar–and we jumped on the opportunity!
Other horses that we currently own have been purchased from ranchers in Wyoming and Colorado.  When shopping for a horse, we check in papers, Craigs List, and sometimes hear of horses from locals.  When looking at ads, we have to first keep in mind that the person posting the ad may have very little horse experience themselves.  If the ad says "well broke" that might not mean the horse is ready for a beginner rider.  We take into consideration the age, the size, and the experience the horse has, not necessarily in that particular order.  If we purchase a horse older than about 15 years of age, we want to be sure that the horse can be integrated into our herd and used right away, or else he probably wasn't worth the purchase.  As for experience, was he used in a show ring, or was he roped off of by a very experienced ranch hand?  A horse may have been great for somebody that knows how to ride and rides often, but they could be a completely different horse for an inexperienced rider.  The horse that the Vee Bar looks for is one that is calm and independent.  He will leave another horse or the barn without getting panicked or stressed.  He will walk, trot, and lope with out too much encouragement, or with out running away.  Surprisingly to some, we don't look for a horse with real special training.  By 'special training' we mean techniques such as when the rider applies pressure with their leg to the horse's side and the horse moves away.  Or, the rider applies pressure with their heel to tell the horse to turn sharply on it's haunches.  This is because a beginner rider often doesn't know when he or she is applying pressure and would then be accidentally cuing a horse to turn or move in a direction they don't mean.
Once we integrate new horses into the herd, the wranglers ride them several times to see how they react to certain situations.  An example might be when the horse lopes with a group of other horses, does he think he's racing and take off to the front?  Does he go into a lope so fast that he would throw an unsuspecting rider right off his back?  Does the rider have to kick him into a lope so much that an inexperienced rider who is trying to hang on and kick at the same time would never get him into a lope?  These questions are usually answered in the first few rides.  If we have done a good job of picking a horse he'll fall into our routine in the first week or two and be ready for guests by week two or three.  One thing is for certain, and that is that the wranglers will gauge the type of rider the horse can be used for, always erring on the side of caution.  After a few guests have ridden the horse the wranglers can almost exactly predict how the horse will react to certain cues from the rider, or what his favorite activities are, who he likes to ride next to, if he's a leader or follower, and much more.  Each of the horses at the Vee Bar has a very unique personality and noticeable likes and dislikes.  More on that in another post!