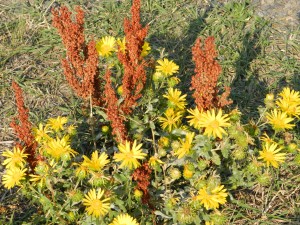 This is a beautiful time of the year at the Vee Bar Guest Ranch!  While the grass is turning brown, the leaves turn a bright yellow.  Our meadows near the river stay green through most of the fall providing a drastic contrast of colors.  The river is low for this time of year, but the sound of the water babbling over the rocks continues.
The bears are coming down out of the mountains early this year–probably due to the dryness and lack of food.  Just a couple weeks ago, a young bear began frequenting the Vee Bar.  The thick plastic lids on the dump trailer were no match for the hungry bear.  The latches held, but the bear bent the corner of the lid up so that it could reach it's arm in and pull out treats.  The next day, the bear had obviously sat on the lid and pushed it into the trailer and feasted on the ranch's leftovers.  After four visits to the dump trailer in one day, we decided that it was time to hide the dump trailer.  Now the dump trailer is parked in the shop and the doors are chained shut.  So far, the bear has not been able to get in.
Another regular resident each fall is a large bull moose.  While moose can be very dangerous, he is quite a spectacle to see.  He seems to tower over everything near him.  He appears to saunter through the willows, but appearances can be deceiving.  He is actually quite fast and agile!
Lots of white tail deer make the Vee Bar their home.  In the fall they stay close to the river, making their way up and down the banks grazing.  Fawns born this past spring graze out in the open with their mothers.  A set of twins reside near the main lodge with with their mom, and both fawns still have their spots.
Antelope, jack rabbits, cottontail rabbits, skunks, foxes, coyotes, mink, river otters, beavers, Bald Eagles, hummingbirds, Magpies, and a variety of other birds are among other fauna to be spotted at the Vee Bar Guest Ranch.