Today guests woke up to sunny skies and warm, breezy weather.  They rode to camp yesterday, doing some cattle work on the way.  Upon arrival at camp, they feasted on barbecued brisket, corn bread, baked beans, and grilled vegetables.  Brent played guitar and sang cowboy songs.  Some spent the night under the stars, or in tipis.  A few others came back to their comfortable cabins at the Vee Bar.  Guests ate breakfast on the range before departing camp on their horses.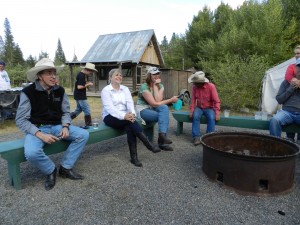 They rode near the base of Centennial Ridge and had a beautiful morning view of the Centennial/Albany valley.  A hearty lunch awaited guests and staff alike at the main lodge.  Grilled asparagus, shepherds pie, potato wedges, and cookies were part of the menu.  After lunch, everybody got to compete with their horses in the gymkhana.  The youngest kids (ages seven and eight) were the loudest in the cheering section, but when it was their turn to go, they maneuvered their horses like pros!  A popular Friday afternoon activity is to go river tubing–what better way is there to clean off the camping dirt?  Tonight, in the John Wayne Saloon, a local band will entertain all of us with great dancing music.  The Golden Horseshoe Awards, a Friday night tradition since 1995 when the Cole's first opened the business as a guest ranch, are a fun event not to be missed!
Any person who has spent some time around horses knows how many different personalities a horse has.  A good horse person has learned to watch for body language in their horse.  A horses eyes and ears can speak volumes!  The Vee Bar herd of horses is made up of about 35 unique, individual personalities.  A person who takes the time to observe them in the meadows will see that they have a well-established pecking order.  Size does not necessarily dictate dominance.  Take Coco for instance.  He's one of the shortest, fattest horses in the herd and he'll take a minute to boss any big horse around.  Little does his young rider know, Coco spends most of his time subtly cutting other horses off when out on a ride.  The wranglers on the rides can tell when an enemy horse is moving in on him–at a walk he'll gradually start veering over to cut the horse off!  Little kids riding Coco don't even know that Coco is up to something.  Then, take Waylon, our Belgian draft horse.  He came into the herd a couple years ago.  Although he was only about 12 at the time, he immediately buddied-up with the geriatric group of horses ranging in age from 17-25 years.  He walks at their pace–slow and steady.   Not much excites him and he seems all the wiser for it.  The geriatric group, plus Waylon, spend their time in the meadows far from all the other horses.  In the corral with the rest of the horses, they have their own corner where the younger horses leave them alone.  Outside of that small space, they often get chased or picked on by others.
Then there are horses like Black Jack.  This horse has so much personality that it bubbles right out of him!  He is a very playful horse.  Although we don't know much about his history, he seems to be a Thoroughbred / draft horse cross.  He is a tall, beautiful grey horse with a long, thick, shaggy mane and forelock.  He likes riders who will let him run a bit faster so he can be at the front of the group.  When tied at the hitching rail he busies himself by chewing on the end of the lead rope until he's untied and freed himself.  He has ruined many lead ropes this way.  Many of the lead ropes have a nice green grass stain from Black Jack chewing on them.  When he unties himself, he usually just stands in place and waits for somebody to tie him up again.  Guests are not allowed to give him treats while tied to the rail because soon he's trying to get in every pocket as it walks by!  When in the corral, he picks up feed buckets, balls, wood, and whatever else he can get his teeth on and throws them around.  If he's lucky another horse will come to play with him and they will each grab a side of a rubber feed pan with their mouth and start pulling.  Who knew horses could play tug-o-war!?
The "big dudes" are a group that have priority in the corral.  They stand in the small bit of shade in the corral and three of them hang their head in the barn door to keep cool, and to keep flies off.  It's obvious that they get along because their three big heads take up the entire door and none of them care.  Moose, Sam, and Charger have posed for many pictures, stood for many pats, and entertained many wranglers and guests, looking in on a days work in the barn.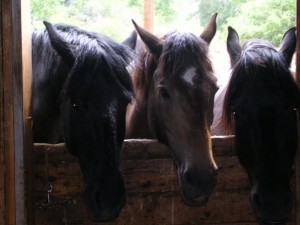 While the "big dudes" are pampering themselves in the shade and hogging the attention, others, like Fritz, are like hidden gems in a forest.  Every ranch has one (and probably only one) "perfect" horse.  Anybody can ride him, he never spooks, he takes perfect care of the rider on his back, and is generally the safest horse a person could possibly ride.  Fritz is the Vee Bar's perfect horse.  He is almost taken for granted because he never needs extra attention–he's just there to happily do his job.  Many riders on his back don't even know how well-behaved Fritz really is.  Sometimes people talk about horses and other pets that have special intuition.  Fritz seems to know how good his rider is.   With a six-year-old little girl he takes tiny steps and creeps up and down hills.  With a young boy eager to cut loose, Fritz is one of the fastest in the group.  He'll run with his head held high and his tail blowing in the wind.  The one thing Fritz really loves is to barrel race.  In fact, when it comes to barrel-racing, he doesn't really care who is on his back.  With a young person who doesn't want to go fast, the wranglers have to make sure Fritz starts at a slow pace; then he'll finish at a slow pace.  The rider doesn't even really have to steer him, so even a six-year-old trotting the pattern could do much better than many of the adults.  But, when somebody wants to win the barrel racing event at the gymkhana, all they need to do is give him one kick and he'll run the pattern all by himself–and pretty fast, too!
The Vee Bar wranglers get to know each horse's personality, and it is one of the most interesting parts of the job.  Horses have a very intelligent mind and very different personalities.  It's no wonder guests establish such a close relationship with their horse while they are visiting the Vee Bar.  Although the horses are at the ranch to do a job, the wranglers and horses end up taking on a role similar to a child with their parent.  As a wrangler, you feel like you know the horses so well that you take pride in the work that they do and the riders that they satisfy.  Likewise, it is a huge disappointment when they act up, act out of character, or develop bad habits when you know they know better!  Often times, when potential clients call to learn about the Vee Bar, their questions revolve around the horses and the riding program.  We take pride in our horses–their personalities, their condition, and their mentalities.  We are able to offer a versatile riding program because we know our horses and we know how to find the right ones for our guests.  We look forward to the day when you get to meet our herd!  If you are interested in making a reservation, call our office at 800-483-3227 or visit our website www.veebar.com. See you on the trails!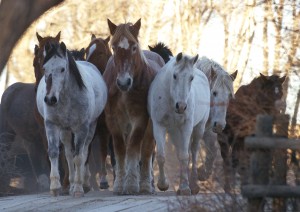 The Vee Bar horse herd is made up of a variety of breeds, colors, and ages.  Unfortunately, there are few of which we know the entire history.  About half of the horses that we currently own came from a lessor that the Vee Bar had used for a number of years.  The horses came to us summer after summer, and every fall they returned to their home near Riverton, Wyoming.  Some were only there for a couple weeks before they were shipped to their next job at a hunting camp.  They were all well-cared for and seemed pretty youthful.  The owner of this particular horse-lease company was diagnosed with cancer and chose to sell his herd.  The Vee Bar had the first chance to buy all 15 horses that had been leased from him–a great deal for the Vee Bar–and we jumped on the opportunity!
Other horses that we currently own have been purchased from ranchers in Wyoming and Colorado.  When shopping for a horse, we check in papers, Craigs List, and sometimes hear of horses from locals.  When looking at ads, we have to first keep in mind that the person posting the ad may have very little horse experience themselves.  If the ad says "well broke" that might not mean the horse is ready for a beginner rider.  We take into consideration the age, the size, and the experience the horse has, not necessarily in that particular order.  If we purchase a horse older than about 15 years of age, we want to be sure that the horse can be integrated into our herd and used right away, or else he probably wasn't worth the purchase.  As for experience, was he used in a show ring, or was he roped off of by a very experienced ranch hand?  A horse may have been great for somebody that knows how to ride and rides often, but they could be a completely different horse for an inexperienced rider.  The horse that the Vee Bar looks for is one that is calm and independent.  He will leave another horse or the barn without getting panicked or stressed.  He will walk, trot, and lope with out too much encouragement, or with out running away.  Surprisingly to some, we don't look for a horse with real special training.  By 'special training' we mean techniques such as when the rider applies pressure with their leg to the horse's side and the horse moves away.  Or, the rider applies pressure with their heel to tell the horse to turn sharply on it's haunches.  This is because a beginner rider often doesn't know when he or she is applying pressure and would then be accidentally cuing a horse to turn or move in a direction they don't mean.
Once we integrate new horses into the herd, the wranglers ride them several times to see how they react to certain situations.  An example might be when the horse lopes with a group of other horses, does he think he's racing and take off to the front?  Does he go into a lope so fast that he would throw an unsuspecting rider right off his back?  Does the rider have to kick him into a lope so much that an inexperienced rider who is trying to hang on and kick at the same time would never get him into a lope?  These questions are usually answered in the first few rides.  If we have done a good job of picking a horse he'll fall into our routine in the first week or two and be ready for guests by week two or three.  One thing is for certain, and that is that the wranglers will gauge the type of rider the horse can be used for, always erring on the side of caution.  After a few guests have ridden the horse the wranglers can almost exactly predict how the horse will react to certain cues from the rider, or what his favorite activities are, who he likes to ride next to, if he's a leader or follower, and much more.  Each of the horses at the Vee Bar has a very unique personality and noticeable likes and dislikes.  More on that in another post!
The Vee Bar Guest Ranch will start offering horseback riding for winter enthusiasts after the New Year.  Previously, the riding season has been May 1 to October 1.  Now Brent, head wrangler at the Vee Bar, will be taking riders on a 45 minute ride through the Vee Bar meadows and along the river.  Rides will be walking-rides only, but as is traditional at the Vee Bar, you will not be required to ride nose to tail.  Reservations are needed in advance, and rides will be taken during the warmest part of the day, between 10:00 a.m. and 2:00 p.m.
Weather will be the wild card!  Even the nicest days in Wyoming can be quite chilly.  Actually, the Wyoming wind usually has more of a bite than the air temperature!  Also, on the back of a horse you are not moving around very much to help keep yourself warm.  Unfortunately, the boots that are safest to ride in are usually the coldest–at least the types that are affordable to buy if you are only going to wear them a few times.  So, how do you prepare to stay warm?  Dress in layers.  Make sure that the outer layer of clothing is wind proof and water resistant.  Wear long-johns and heavy jeans or thin snow pants.  The trick with layers is that you don't want to dress so bulky that you are like a walking marshmallow.  You still want to be able to move safely on and around your horse.  The bulkier your layers, the more restrictive they are.  Find the right balance.  The hardest parts to keep warm will be your hands and feet.  Remember, you'll be holding the reins in your hands and you want to be able to feel them and have control of them at all times.  Thick, bulky gloves do not allow you to maneuver your reins, make quick adjustments, or feel them if they are sliding through your hands.  Ideally you can wear a thinly insulated glove (not mitten) with a leather palm.  This allows you to feel the reins and keep them from sliding through your fingers unexpectedly.  A nice trick that horsemen and women have used for years is to utilize your horse's body heat.  If your hands get cold, your horse will feel warm to the touch.  Plus, your horse will probably like the occasional pats!
To fit your feet with proper footwear in winter weather, you'll most likely be trading comfort for safety.  There are very few types of boots suitable for riding that are insulated and safe.  And, unless you are going to be riding very frequently, you probably are not going to want to spend the money on a pair of insulated riding boots.  At the Vee Bar Guest Ranch, we have a small stash of loaner boots (uninsulated).  Be cautious about wearing two layers of socks.  Too many socks will cramp your feet in your boots and restrict blood-flow, making them even colder.  Either way, you want to be able to wiggle your toes in your boots–and do this often as you are riding.  That is probably the single best way to keep toes warm.  Boots are more of a piece of equipment for cowboys than for style.  Good riding boots (cowboy boots) are made with a heel to stop a person's foot from sliding too far through a stirrup and getting stuck.  They also have a smooth sole that will slide out of the stirrup easily and fast if needed.  Snow boots usually don't have a heel and they usually have a thicker, rubber sole that can bind in the stirrup.  This is a dangerous combination if something goes wrong while you are on horseback.  Having your foot stuck in the stirrup is a situation that can be avoided with proper equipment.  That's why, when you come to horseback ride at the Vee Bar Guest Ranch, we require that you wear safe and proper footwear, even if your toes get cold!
We hope that you can take advantage of horseback riding at the Vee Bar.  Riding may take you back to a simpler time; back to the days of "real" cowboys, expansive cattle ranches, and settlers who wanted to stake a claim in some of the west's most beautiful country.  Riding is a very unique way to see beautiful, untouched country.  The horses at the Vee Bar are selected very carefully because of their easy-going nature and manners that are critical for a guest ranch operation–more specifically, the Vee Bar's operation–to provide guests with hours of safe and enjoyable riding.  More on that later…  See you this winter!
In the next two weeks we are going to transition from our summer guest ranch season into our fall/winter bed and breakfast season.  Starting Labor Day weekend we will be open nightly for bed and breakfast, and will be serving dinners on Friday and Saturday nights.  With the University of Wyoming football season fast-approaching, we'll be seeing a lot of football fans.  During the weekdays in September several groups, mainly from Wyoming, have booked our location as a meeting place to hold their fall retreats and workshops.  Space is limited in September, so if you don't already have a reservation it would be a good idea to make it now!
Laramie, WY–Dale Jensen, head cook at the Vee Bar Guest Ranch entered the Ivinson Memorial Hospital Foundation Griller's Cup last weekend, July 16th.  About 34 teams from across the region entered the competition.  Competitors entered a variety of meats and either a sauce or dessert.  Dale was one of six amateur competitors and twenty-eight professional competitors.  The Griller's Cup is sanctioned by the Kansas City Barbecue Society.  Dale was the winner of the People's Choice for Best Dessert.  Congratulations, Dale!
Copy and paste the link (below) into your browser to see Dale's picture in the Laramie Daily Boomerang!
http://www.laramieboomerang.com/articles/2011/07/18/news/doc4e22550b72580036546703.txt
In Laramie, Wyoming there is a hometown celebration associated with the Fourth of July that calls the young at heart to come celebrate.  It is known as Laramie Jubilee Days and the festivities continue for about 10 days.  Rodeos, carnivals, and street fairs are only a few of the fun things to do.  The Vee Bar Guest Ranch also has it's own sort of fun.  During the Ranch Jubilee Week at the Vee Bar there are not only activities at the ranch, but ample opportunities to go to Laramie and catch some of the fun.  On Monday, July 4th some of the guests and staff went to Freedom Has a Birthday at Washington Park in Laramie.  We were entertained by talented musicians and vendors.  One musical performing family had all eyes on them when their five year old boy played fiddle and sang to a large audience.  The rest of the guests rode horses across the Vee Bar meadows, taking in all that Mother Nature has to offer.  That evening, everybody dressed in red, white, and blue as we prepared for a fireworks show in Centennial.  Some friends came out from Laramie to join the Vee Bar staff and guests, and we all parked near Centennial to watch the show.  Centennial residents, businesses, and passers-by donated money to a "fireworks pool" and the money was used to purchase the town's fireworks.  Some people also set off their own.  Although the show is not timed and organized, it lasted over an hour, and the fireworks were pretty impressive!
In addition to the horseback riding in "God's Country" guests moved cattle across the plains, took a wagon ride with our team of horses, watched the Mr. T Bull Riding in Laramie, had a cook out in the mountains,  had several musicians at the ranch, and much more!
As another Fourth of July passes, and Laramie Jubilee Days comes to a close, we often wonder what the celebrations might have been like in the "old" days.  Rodeos, dances, and firecrackers probably completed any get-together.  A holiday such as the Fourth of July was the perfect reason to meet up with old friends and drop work for a day or two.  Imagine what it was like to only be able to communicate by mail or in person.  No phones, radios, or internet.   Communication was personal and more meaningful.  It was not taken for granted.  Any chance to get together with neighbors and friends had to be a special day; probably one worth talking about and reminiscing about for months to follow.
Here at the Vee Bar, the guests who visit have been so connected and "plugged in" that they forget what it's like to live in the moment.  Think about how much time is spent in a day texting, checking e-mail, updating Facebook, and talking on the phone.  Communication via internet, phones, and texting is such a part of daily life that families often have to reacquaint themselves with each other while they are here, free of distractions and interruptions.  People have become such multi-taskers that their lives have actually become more complicated, stressful, and demanding.  For this reason it seems extra special for people to be able to spend time at the Vee Bar, in the heart of Mother Nature.  Time and time again we hear about the wonderfully refreshing vacation or simple get-away people have had.  They make new friends with other guests, play cards and board games with other family members, spend time outside being active, and simply have a good time.
As this Ranch Jubilee Week comes to a close at the Vee Bar, we would like to remind you to spend time living in the moment.  Don't forget how to communicate on a personal level–it is important and everybody needs it.  Whether it's at the Vee Bar or another place you consider your sanctuary, be sure to celebrate events and make them ones worth talking about and reminiscing about for months to follow.
In February, the combination of a long car ride and a new Droid phone led to the purchase of two mini donkeys.  Not only are they mini donkeys, they are mini PAINT donkeys.  Who knew such creatures existed?  Brent, ever since meeting two mini donkeys over at the Deerwood Ranch, has liked the idea of having two of his own to use at the Vee Bar.  While shopping for kids horses, Brent came across an ad for Kit and Kaboodle.  Since Kari and Brent were already passing through Colorado on their way home from Arizona, they decided to stop and meet the donkeys.  They immediately knew Kit and Kaboodle would be a good fit for the Vee Bar.  The two donkeys had become quite used to their previous owner, as she was the only one that handled them.  Even though they were friendly to her, she rarely haltered them.  She had purchased them to be companion animals to a rope horse she no longer had.  When Brent and Kari saw them, they were a bit skittish, but came right up to the person they had known for a couple years.  With a little care and attention from the Vee Bar crew, as well as numerous guests at the ranch each week, Kari and Brent knew they would be gentled in no time.  After bringing Kit and Kaboodle home, the next step was to find a mini set of harnesses and a small wagon.  In late May we finally had all we needed to begin their training.  The donkeys will hopefully service young kids at the ranch both as animals to pet and as animals to pull a small wagon to give rides.  We hope to eventually enter them in the annual Laramie Jubilee Days parade the weekend after the 4th of July.  Kit and Kaboodle have been outfitted in their new harnesses several times, and hooked to a wagon twice.  They are doing very well and may progress faster than we originally thought!
The Vee Bar owns approximately 30 horses which stay in the pastures at the ranch year-round.  Each summer the Vee Bar leases around 15 more horses to use for the guest ranch season.  We always have the same core group that we lease year after year.  The horses that didn't work the previous season or got replaced for one reason or another are the only ones that we don't see back at the ranch.  Yesterday, Brent and Tommy drove the semi and trailer to Pavilion, Wyoming to pick up 9 horses for the Vee Bar.  A few of these horses include Mason, Ed, and Jello.  The horses seemed to know where they were upon arrival.  They made themselves at home in the corrals last night and munched contently on their hay.  This morning our herd was brought in from the meadows.  Most of the horses will recognize each other and work at establishing their pecking order today.  The order that they establish during the first week is usually the order that they keep all summer.  They will stand in the same place in the corral with the same group of horses each day.  Very few of them mingle from one clique to the next.  When they are all turned out to pasture at night, they will still stay with their friends as they graze.  Horses are quite entertaining, complex creatures.  Their memories of each other and of the Vee Bar are strong year after year.  Perhaps that is what makes it so easy for them to ease into the summer routine.  When each horse is led into the barn for the first time in the spring, they walk calmly as if to say, "Ah, I'm home!"
Welcome to the Vee Bar Guest Ranch blog!  We hope that you read it often and enjoy the content.  We'll include local stories, news, and events as well as issues that pertain to the Vee Bar Guest Ranch and the western way of life.  More to come…