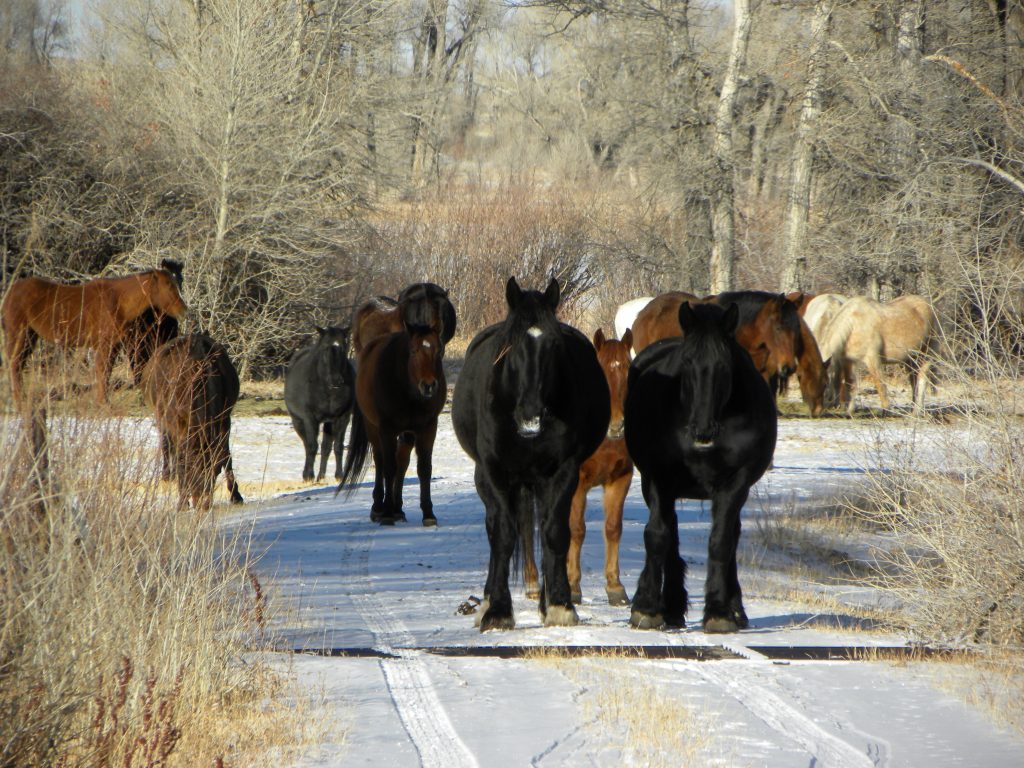 Winter is a beautiful time to visit the ranch!  Even though there is a chill in the air, the outdoors is an adventurous, inviting place to be.  There is nothing quite like fresh winter air especially when there is so much to do!  Your family might be due to spend some time together this winter, so here is a list of 5 things that your kids will remember forever!
Go on a horse-drawn wagon ride. Our team of Percherons, Goliath and Decker, put a new meaning to horse-power!  Being on a wagon pulled by a team of horses often conjures up nostalgic feelings of what it would be like to live in the "old days" when there were not automobiles.  During winter months, bring a blanket to set across everyone's lap and get ready for a 20-30 minute tour through the Vee Bar meadows.  Upon return to the historic main lodge, help yourselves to a cup of free hot chocolate.
Visit the goats, mini donkey's and baby horses. The Vee Bar has its own version of a petting zoo.  Two friendly goats, Annie & Pesky, wander the grounds around the barn and corrals.  They are always up for a good rub!  The mini donkeys also come to the fence to get passers by to dole out some good pets!  
Bring a sled or borrow one from the Vee Bar. There are not very many hills on the Vee Bar, but our family has managed to find a couple tried and true places.  As winter progresses, there are some drifts that are perfect for a short thrill ride.  Another hill can be found in one of the horse pastures, and as long as there is some fresh snow, it's an entertaining and close place to sled.  When snow is scarce at the ranch, the mountains beckon.  Our family can tell you some of our favorite places to go!  It only takes about 15 minutes to drive to any number of great hills!
Evening board games, card games, and a soak in the outdoor hot tub. At the day's end, many families that visit the ranch find themselves absorbed in board games in the John Wayne Saloon.  At the Vee Bar, there are not televisions in the cabins, so families are drawn to other forms of entertainment, and quality time together.  Maybe you want to battle it out over a Monopoly game, or Apples to Apples, Battleships, a game of pool, or teach your kids how to play a friendly game of poker.  When the games are done, take the family for a soak in the outdoor hot tub, and count the stars.  Then retreat to your riverside suite or cabin, heated by a gas fireplace, and bunk down for the night.
Campfire with S'mores! Last spring the Vee Bar rebuilt the fire pit in the front lawn at the lodge.  With the purchase of a Ranch Escape Package, a campfire and s'mores are part of the package.  But, if you are here for only a couple nights, you can still bring your own firewood and s'mores roasting supplies and help yourself to the pit.
Of course, there are many, many other things to do during your visit to the Vee Bar Guest Ranch!  Downhill skiing and snowshoeing are other popular activities, and many families dine at the Vee Bar at least one night during their stay.  Check out our B&B Specials & Packages page for family deals, other ideas, and more information!