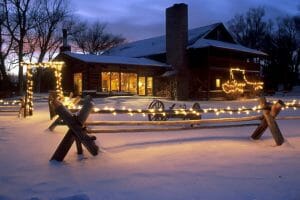 December Lodging & Dinner Special
We appreciate your business, and in a season when experiences mean more than tangible gifts, we want to provide you with the perfect opportunity for an affordable getaway. Now through December 21, 2018, enjoy the Vee Bar and get a deal your loved ones will appreciate.
Holiday Package
Spend two nights (minimum) in a cabin or suite along the river for $50 per person per night. Kids 12 and under stay FREE. A full, hot, homemade breakfast buffet is included with your lodging. Make dinner reservations and dine in front of the crackling fire, surrounded by Christmas lights, in our historic lodge dining room.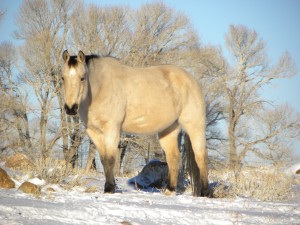 Ranch Escape Package
Enjoy the Vee Bar in the fall, winter, and spring!  The Vee Bar has been open for bed and breakfast since 1994, but this package allows guests to participate in more activities and meals at the ranch.  The Vee Bar staff will make sure that you get the most out of your vacation while exploring the Vee Bar, the Snowy Range Mountains, and local attractions.  Guests will need their own transportation to and from the ranch.  A three-night minimum stay is required to purchase this package.  See our Escape Package Sample Schedule for activity and meal details.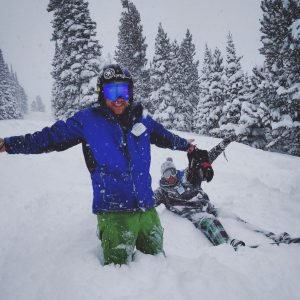 Ski Packages
Stay at the Vee Bar Guest Ranch, Ski at Snowy Range Ski Area, get a discount on both!
The Vee Bar Guest Ranch and the Snowy Range Ski Area have partnered since 2013 to offer guests great discounts on both lodging and ski packages. It is a deal you won't be able to beat and an experience you will cherish forever!  At the Vee Bar Guest Ranch, a homemade breakfast is included every day!  The cabins along the banks of the Little Laramie River are the perfect place to get cozy, read a book, or play board games with other members of your party.  After a day of skiing, enjoy the clear Wyoming sky and count stars from the outdoor hot tub.  The John Wayne Saloon is the stage for a game of billiards, cards, or board games from our collection.  For the non-skiers in your party, or for the days you don't ski, the Medicine Bow National Forest provides miles and miles of snowshoeing and cross country ski trails.  Give our office a call at 800-483-3227 to schedule your winter vacation!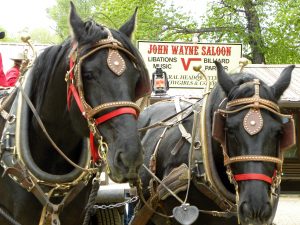 Wagon Rides
Begin new traditions with your friends and family this winter at the Vee Bar Guest Ranch.  Treat your loved ones to a horse-drawn wagon ride through the beautiful Vee Bar meadows.  Enjoy hot chocolate or hot cider on the wagon and bring your own blankets to bundle up in!  Go back to the John Wayne Saloon for a game of cards and refreshments before dinner.  The maximum capacity on the wagon is 20-25 people and space is available on a first come, first serve basis.  Wagon rides are $20 per person, or you can choose a discount with a package.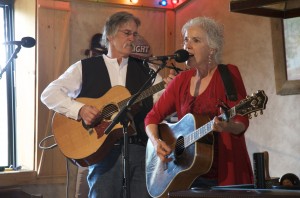 Music & Dining Specials
Come to the Vee Bar to enjoy music, dancing, and dinner.  The evening starts at 6 p.m. with a social hour, a band, great company, and cocktails.  Guests will be seated at 7 p.m. for a dinner buffet.  The band will continue in the saloon after dinner, and desserts will be served.