The Vee Bar – A Friendly Family Guest Ranch
The Vee Bar located near Laramie, Wyoming just 2 1/2 hours north of Denver, Colorado is a world-reknown family guest ranch with a relaxed atmosphere sure to feel like home to your entire family.
Family Guest Ranch activities range from horseback riding to evenings gathered around a campfire. Resting in the shadows of the Snowy Range Mountains in the Centennial Valley, the Vee Bar Guest Ranch is located 21 miles west of Laramie, Wyoming. Click for area map and driving directions from Denver International Airport. Listed on the National Register of Historic Places, this 100 year-old landmark has served as a cattle ranch, a stagecoach stop, a boy's school, and a buffalo ranch, as well as a year-round guest ranch. With careful restoration and creative decor, its western heritage has been preserved. The cabins and lodge offer antique furnishings from the Vee Bar's rich and colorful past.
"Once again our stay at the Vee Bar Guest Ranch was nothing but spectacular!"
–Elaine MacIntosh Minneapolis, Minnesota
Never to be forgotten, the Vee Bar's menu of home-cooked food is part of a great stay at the ranch. Dining is buffet style in the informal western tradition. Guests enjoy a varied menu of meats, fresh fruits and vegetables, homemade breads, and desserts. The ranch chef will be happy to accommodate special diets with prior notice.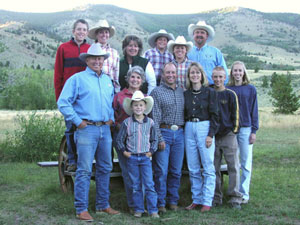 Happiness can be found with ease at this family Guest Ranch, whether riding across the grassy meadows on a beautiful summer morning or relaxing to the sound of the Little Laramie River flowing just outside your cabin.
The Cole Family own and operate the Dude Ranch, as well as the Deerwood cattle ranch, located approximately ten miles south of the Vee Bar, nestled in the Centennial Valley below the Medicine Bow National Forest.
The Deerwood is home to three generations of Cole's including son Kelly and his family, daughter Jana and her family and son Curt. The Coles' seven grandchildren play an active part in the operation of the Vee Bar Guest Ranch, particularly during dude ranch season working as wranglers, assisting in the dining room, helping with housekeeping and maintenance chores and wherever else a hand is needed.