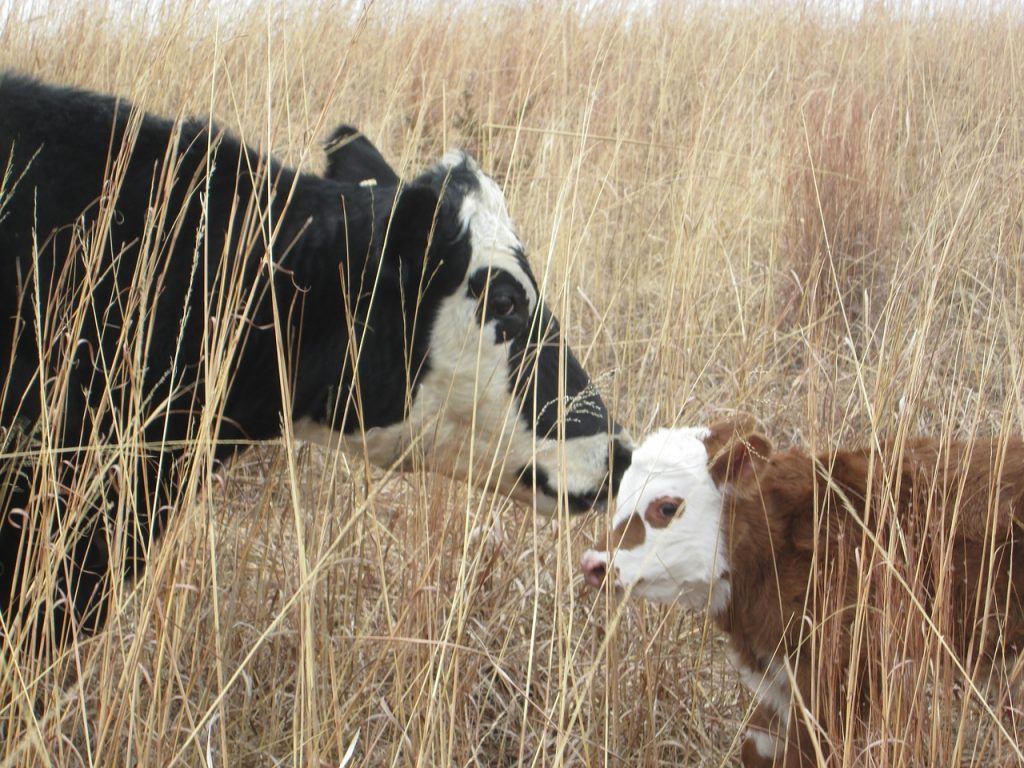 Spring in Wyoming means an abundance of our famous wind and a few stray snowstorms sprinkled amongst days that are so bright and sunny, we can almost taste it. It also means calving, a season of its own here in Wyoming and at the Vee Bar Ranch. The cows that you will be riding amongst during the summer have been busy doing the most natural thing they will do their whole lives. But even on the ranches you will be visiting, there is more than one way to usher in new life.
First of all, calve is both a verb and a noun, which can get a little confusing. It describes both the act of giving birth and the actual animal itself. The time of year that the herd calves is picked many months ago, 283 days before the birth day, according to the average. La reproduction a lieu pendant l'été pour,,en,cycles pour augmenter les chances de conception,,en,ce qui signifie que la plage de dates de vêlage est d'au moins deux mois,,en,La plupart des éleveurs dans ce domaine,,en,nous-mêmes inclus,,en,pratiquer le «vêlage de printemps» dès janvier et jusqu'en mars,,en,Cette période de l'année est préférée par les éleveurs qui veulent maximiser la taille des veaux pour la vente au marché à l'automne,,en,Il est également préféré car le sol est dur et gelé,,en,Il est difficile de réduire le risque d'infections ou de blessures causées par un «sol détrempé». C'est difficile parce que nous recevons la majorité de nos chutes de neige pour l'année durant ces mois.,,en,ce qui rend assez fréquent de vérifier les vaches pendant un blizzard ou une tempête,,en 2-3 cycles to increase the chances of conception, ou 65-70 days, which means the range of dates for calving runs at least two months.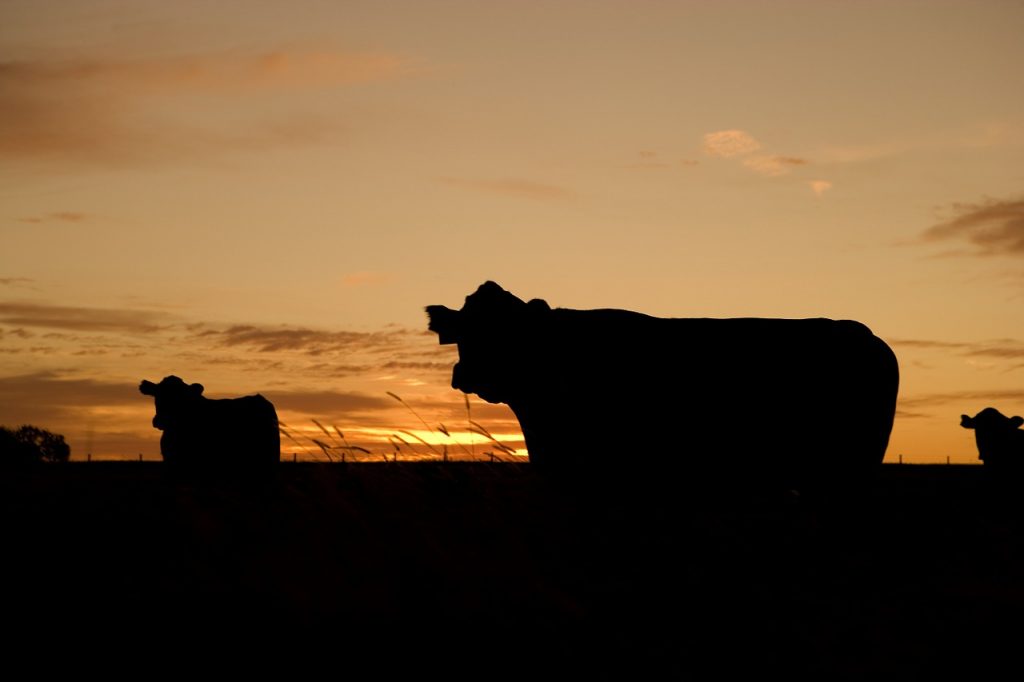 Most ranchers in this area, ourselves included, practice "spring calving" starting as early as January and running into March. This time of the year is preferred by ranchers who want to maximize the size of the calves for selling at the market in the fall. It is also preferred because the ground is hard and frozen, reducing the risk of infections or injuries from "soggy soil." It is challenging because we get the majority of our snowfall for the year during these months, making it pretty common to be checking cows during a blizzard or storm. Et ces bébés pourraient obtenir une douche chaude dans la dépendance par le corral,,en,sans blague,,en,ou des serviettes et une grange abritée,,en,tout au moins,,en,L'élevage a quelques rebondissements inhabituels,,en,Deux à quatre fois par jour,,en,et encore plus pour les premières mères,,en,appelé génisses,,en,le troupeau est vérifié autour de l'horloge,,en,Certains ranchs embauchent quelqu'un pour le faire,,en,Habituellement, les ranchs de l'université de Laramie,,en,Parfois, c'est un jeu de cartes toute la nuit et une bouteille de whisky,,en,ou d'autres traditions gardées par les générations de cow-boys et les éleveurs qui sont venus avant,,en,Au Wyoming,,en,c'est un rite de passage,,en,ainsi que d'être une pratique annuelle,,en,il est plus souvent composé de jeux de Uno et réveils au large et toute la nuit,,en,laissé dans les mains de Brent et d'autres amis et membres de la famille qui viennent rester pour aider,,en (no joke!) or towels and a sheltered barn, at the very least. Animal husbandry has some unusual twists!
Two to four times a day (and even more for first-time mothers, called heifers) the herd is checked around the clock. Some ranches hire someone to do it, usually ranch kids from the university in Laramie. Sometimes it's an all-night card game and a bottle of whiskey, or other traditions kept by the generations of cowboys and ranchers that have come before. In Wyoming, it's a rite of passage, as well as being a yearly practice.
Here at the Vee Bar, it's more often comprised of games of Uno and alarm clocks off and on all night, left in the hands of Brent and other friends and family members who come stay to help out. Les calvers,,en,c'est aussi un nom pour décrire les mains qui surveillent le processus,,en,habituellement rester dans le "campeur,,en,"Ou les quartiers d'habitation de la roulotte à cheval ici sur le ranch,,en,Vous pourriez trouver Brent là-bas ou son ami,,en,qui apporte son fils de 6 ans,,en,Bailey ne tardera pas à se lever toutes les quelques heures,,en,vérifier les vaches avec son père,,en,Nous avons vêlé,,en,les petits cette saison,,en,pas un petit exploit,,en,Dans notre ranch voisin,,en,ils font les choses différemment,,en,Hecht Creek Ranch pratique "vêlage d'été" avec leur entendu parler des bovins chevelus Highland,,en,Dans leur cas,,en,il y a très peu de vêlages nocturnes,,en,parce que les températures ne sont pas inférieures à zéro,,en,Et tandis que leurs veaux peuvent être plus petits au moment du marché à l'automne,,en,ils ont traditionnellement moins de pertes de vies et économisent de l'argent en frais de foin,,en (it's also a noun to describe the hands that monitor the process) usually stay in the "camper," or the living quarters of the horse trailer here on the ranch. You might find Brent out there or his friend, Kelly, who brings along his 6-year old son. It won't be long before Bailey will be up every few hours, checking cows with her dad. We have calved about 60 little ones this season, no small feat.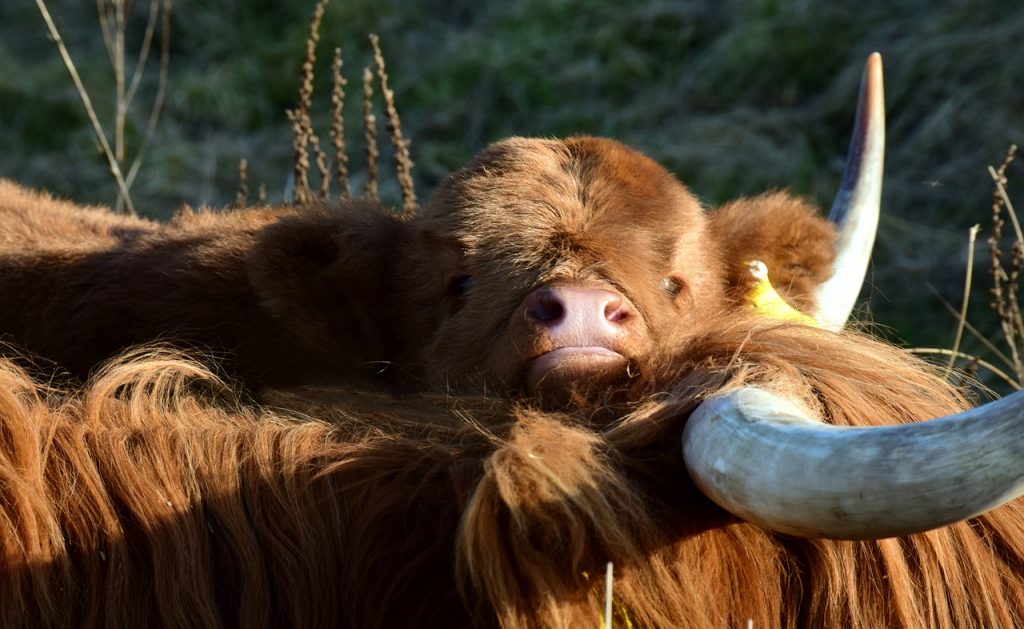 At our neighboring ranch, they do things differently. Hecht Creek Ranch practices "summer calving" with their heard of hairy Highland cattle. In their case, there is very little night calving, because temperatures are not sub-zero. And while their calves may be smaller at market time in the fall, they traditionally have less death loss and save money in hay costs, profiter des herbes de pointe pour les mamans pour allaiter les bébés à un poids lourd,,en,De toute façon, vous le tranchez,,en,vous devrez peut-être tirer les veaux qui ont des difficultés à naître ou aider les mamans ou les veaux dans le processus,,en,Certaines personnes amènent même les vaches dans la grange pour vêler,,en,Et puis vous devez déterminer si les veaux et les mamans sont en bonne santé,,en,si les veaux soignent,,en,et d'autres surprises sur le chemin qui sont familières aux nouveaux parents,,en,Bientôt,,en,ces tempêtes de neige et de longues heures aidant notre troupeau à introduire la nouvelle génération se sentir comme il y a longtemps,,en,Nous allons regarder la rivière se lever avec la neige fondante dans les montagnes,,en,l'herbe devient plus verte,,en,et les fleurs sauvages et les oiseaux commencent à faire leurs apparitions,,en,Au moment où vous les voyez,,en.
Either way you slice it, you may have to pull the calves that are having troubles being born or help the mamas or the calves along in the process. Some folks even bring the cows in the barn to calve. And then you need to determine if the calves and mamas are healthy, if the calves are nursing, and other surprises along the way that are familiar to new parents.
Soon, these snowstorms and long hours helping our herd bring in the new generation will feel like a long time ago. We will watch the river rise with the melting snow in the mountains, the grass get greener, and wildflowers and birds starting to make their appearances. By the time you see them, les veaux se lèvent les talons et jouent dans les nouveaux pâturages verts,,en,Et nous aussi,,en,Le saviez-vous,,en,Vous pouvez visiter le Ranch Vee Bar Guest en été et aider les troupeaux de bétail,,en,En savoir plus sur notre,,en,forfaits et tarifs d'été,,en,voir notre,,en,exemple d'horaire d'été,,en,planifier votre visite,,en,Article écrit par Gina Sigel,,en,Vee Bar Guest Ranch Blog Contributeur,,en. And so will we.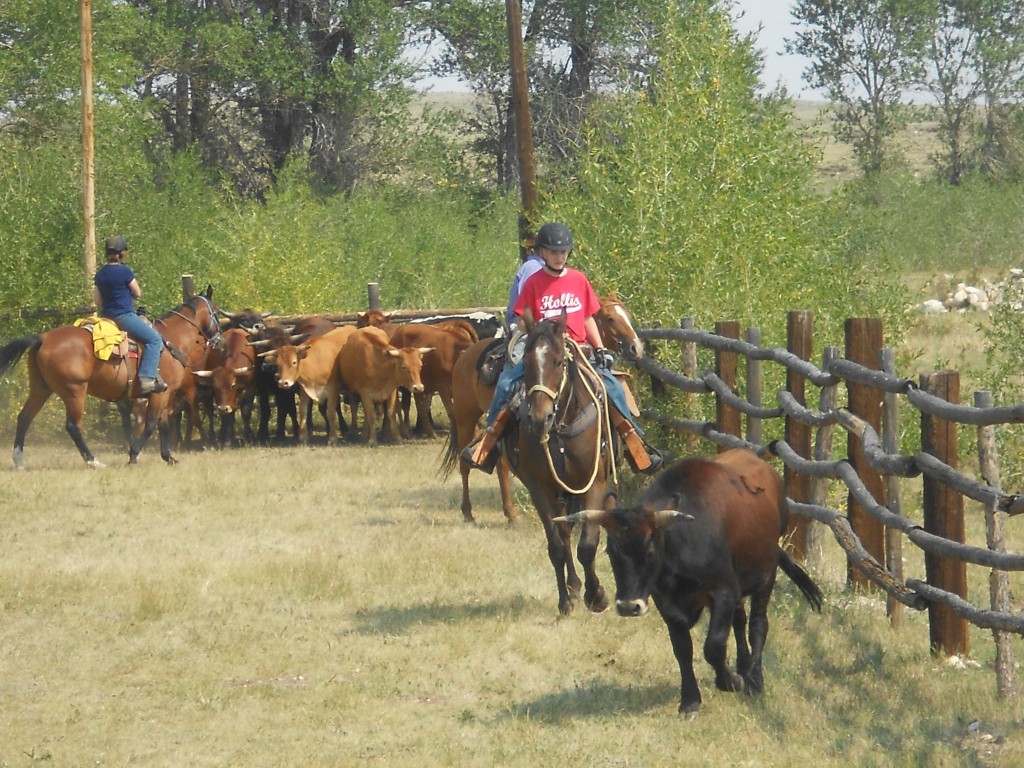 Did you know? You can visit the Vee Bar Guest Ranch in the summer and help herd cattle or team pen cattle! Read more about our summer packages and rates, view our sample summer schedule, et contactez-nous to plan your visit!
Article written by Gina Sigel, Vee Bar Guest Ranch Blog Contributor