You love handling horses and want a hands-on horse vacation?
August 7-13, 2016 – Anybody is welcome!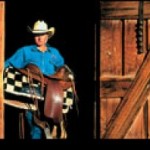 Engage yourself in this week of guest ranch festivities and become educated at the same time.  Have you ever wanted to learn more about what it takes to care for a horse?  Have you ever wanted to learn how to saddle and unsaddle your own horse?  This hands-on horse vacation week is for you.  We will have plenty of hands-on opportunities for you as well as some demonstrations.  We'll also have special groups for kids ages 6-12 when appropriate.
Along with our trail riding program, we'll have instruction on the basics of horse care:  grooming, picking hooves, recognizing and treating small wounds, and more.  A large part of enjoying horses is understanding them.  We'll take you into the mind of a horse so that you are aware of what your horse is thinking.  Also enjoy some demonstrations on training a horse at different levels—yearlings, 2-year-olds, trail horses, and show horses.
Along with saddle horses (those that are ridden) we'll introduce you to our draft horse team, Goliath & Decker.  We'll show you the basics of harnessing and hitching up a team of horses.  If you're lucky, we may even show you how to drive them (from the ground)!
What would a little education be without some fun?  Of course we'll have a great time out on the trails, doing cattle work, on our mountain ride, at our campout and during the team penning. This is the hands-on horse vacation you've been looking for!