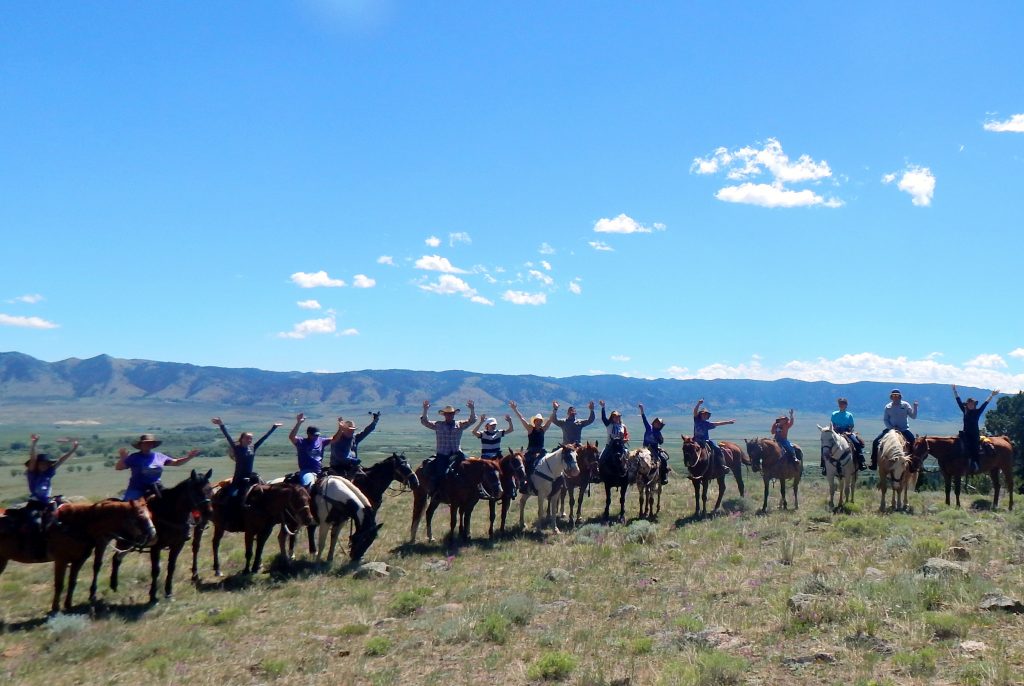 Dude Ranch Family Reunion–Summer Vacation (June through August)
Each summer, il Vee Bar Guest Ranch ospita diversi riunioni di famiglia che variano nel formato da 10-30 members. Al Vee Bar tutti possono essere veramente in vacanza. Leave the meal planning, activity planning, e il trasporto da / per attività al Vee Bar squadra. All-inclusive packages mean that everybody can enjoy three pasti per day, all activities, and lodging for one price. Activities include horseback riding, lezioni di equitazione, gite in carro, bestiame funzionano, team penning, a camp out, pesca, archery, tiro al piattello, escursioni, and much more. Total capacity in the summer is limited to 30 horseback riders. Families may choose from a variety of quaint riverside suites or cabins. Larger cabins can sleep families of 5-8 people and the riverside suite can sleep up to 4 persone. Gruppi di 10 or more people receive 10% off their entire reservation. Per favore contattaci for more details!
Reunions & Group Events–September to May
Gli Vee Bar Guest Ranch può essere prenotata per il vostro dude ranch family reunion, cene di gruppo e altre occasioni speciali. Che si tratti di una festa di compleanno, retirement party, or graduation dinner, il personale della Vee Bar lavorerà per assicurarsi che l'evento è speciale. Si consiglia di organizzare per antipasti e un cocktail prima del pasto, o si può decidere di servire gli ospiti antipasti mentre si mescolano. In generale, the capacity for groups is 50 persone. Chiedi il nostro ufficio sulla pianificazione di un giro in carrozza oa cavallo, troppo. Si consiglia inoltre di trattare i vostri ospiti per una cena barbecue picnic-stile in grandi spazi aperti! Chef Dale cuochi alcune veramente deliziose costolette di maiale alla griglia e pollo, anzi è la nostra voce di menu più popolare! Inquire at the office about the availability of horseback riding, a horse-drawn wagon ride, and trap-shooting, tutto stagionalmente disponibile per un costo aggiuntivo. Tra gli altri servizi gratuiti al Vee Bar figurano la pesca (some equipment provided), archery, horse-shoe pits, an outdoor hot tub, and in the John Wayne Saloon you will find a pool table, carte, giochi da tavolo, and a fully-stocked bar. We can also tailor a package to fit the needs of your group. Contattaci to find out more!