Il Vee Bar – A Friendly Family Guest Ranch
Il Bar Vee situato vicino Laramie, Wyoming solo 2 1/2 ore a nord di Denver, Colorado is a world-reknown family guest ranch with a relaxed atmosphere sure to feel like home to your entire family.
Famiglia Attività Guest Ranch vanno da equitazione a serate riuniti intorno a un falò. Riposo tra le ombre delle montagne Snowy Range nel Centennial Valley, il Ranch Vee Bar Hotel si trova 21 km a ovest di Laramie, Wyoming. Clicca per mappa e Indicazioni stradali dall'aeroporto internazionale di Denver. Inserito nel Registro Nazionale dei luoghi storici, questo 100 anni, è servito come punto di riferimento un ranch, una fermata diligenza, di un ragazzo della scuola, e un bufalo ranch, così come tutto l'anno Guest Ranch. Con un attento restauro e l'arredamento creativo, il suo patrimonio occidentale, è stato conservato. Le cabine e lodge offrono mobili antichi dal passato ricco e colorato la barra Vee.
"Ancora una volta il nostro soggiorno al Bar Guest Ranch Vee era niente di spettacolare, ma!"
–Elaine MacIntosh Minneapolis, Minnesota
Non da dimenticare, menu del Bar Vee di cibo fatto in casa fa parte di un ottimo soggiorno al ranch. La cena è a buffet nella tradizione informale occidentale. Potrete gustare un ricco menù di carne, frutta e verdura fresca, pane fatto in casa, e dessert. Lo chef ranch sarà lieto di accogliere le diete speciali con preavviso.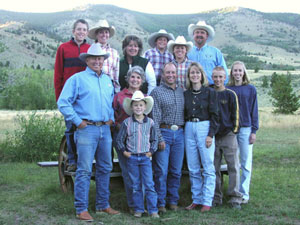 La felicità può essere trovata con facilità a questa famiglia Guest Ranch, se a cavallo attraverso i prati in una mattina bella estate o rilassarsi al suono della Piccola Laramie River che scorre appena fuori dalla cabina.
La famiglia Cole possedere e gestire l'Dude Ranch, così come la Deerwood bestiame ranch, trova a circa dieci miglia a sud del foro di Vee, immerso nella Valle del Centenario sotto la Foresta Nazionale di Medicine Bow.
Il Deerwood è sede di tre generazioni di Cole, figlio di Kelly compresi e la sua famiglia, figlia Jana e la sua famiglia e il figlio Curt. La Coles' sette nipoti svolgere un ruolo attivo nella gestione del Ranch Vee Bar Guest, in particolare durante la stagione ranch a lavorare come wrangler, assistere nella sala da pranzo, aiutando con pulizia e lavori di manutenzione e ovunque una mano è necessario.