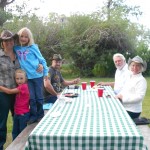 Durante estate Guest Ranch la stagione, pasti a buffet sono serviti tre volte al giorno a 8 alla, mezzogiorno, e 7 pm, after cocktails at 6pm in the John Wayne Saloon. Every "home cooked meal from scratch" is prepared by our guest ranch chefs and served in the historic main lodge dining room near the large river rock fireplace. The hearty western or gourmet meals are supplemented with fresh salads, frutta, pane fatto in casa, pastries and desserts at every meal. Not everyone can eat like ranch hands, modo di farci sapere in anticipo in merito a diete speciali e cercheremo di soddisfare le tue esigenze.
"Un tuffo nel medioevo! Grazie a tutto il personale, Lefty e Carla. Intenzione di tornare con il resto della famiglia e godere l'ottimo cibo& ospitalità nel bel mezzo del paese di Dio. YA'LL servire il più grande di cibo, avventura e divertimento!"–Sharon Barnett, Columbia, SC
Dude ranch gli ospiti iniziano ogni mattina con caffè o tè caldo o freddo, frullati di frutta fresca, un piatto di frutta fresca, dolci fatti in casa, e una varietà di prodotti per la colazione caldi preparati al momento dal buffet.
Menù per il pranzo e la cena appello agli appetiti di grandi e piccini con una varietà di insalate fresche, pane fatto in casa, e dolci deliziosi accompagnano scelte principali corsi.
Il Saloon John Wayne dispone di una varietà di bibite, vini, liquori ed altre bevande alcoliche.
ALL-AMERICAN PICNIC & Cookout: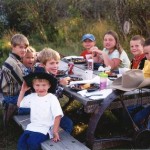 Tuesday and Thursday evenings guests are in for a treat for our All-American picnic and Campout. Martedì sera gli ospiti si uniscono un giocatore di violino e chitarra sul giro in carrozza trainata da cavalli intorno al ranch,,en,Su Giovedi sera gli ospiti godono di un barbecue con costolette e pollo sul fuoco in campeggio ranch immerso in un canyon vicino al bordo della Medicine Bow National Forest,,en, tornando alla John Wayne Saloon per l'intrattenimento con un All-American Picnic.
On Thursday evenings guests enjoy a BBQ featuring ribs and chicken over the campfire at the ranch campsite nestled in a canyon near the edge of the Medicine Bow National Forest. Dopo una notte di dormire nel tepee sotto le stelle, gli ospiti godono di una "colazione sulla gamma" abbondante prima di iniziare il giro a cavallo.