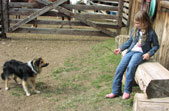 Siamo una famiglia e bambini ranch, e quindi, a kid friendly dude ranch. I bambini di tutte le età sono accolti a braccia aperte. Mentre la fornisce aperta una grande quantità di educazione e intrattenimento, there are other activities in which kids can partake. Children must be 6 years old or older to ride by themselves out on the trails. Younger children are invited to be at the barn before and after the "principale" rides arrive/depart for their turn at a lead-around. Our team of wranglers enjoy taking kids on their lead-around, passato le cabine, uno stagno, and a little way from the barn. All evening activities are kid-friendly, ma sono di solito fare nuove amicizie, mentre gli adulti sono la socializzazione e finendo i loro pasti
"I miei figli ed io siamo qui per visitare WyoTech il Lunedi. Abbiamo viaggiato qui
da Iowa. Non è facile per impressionare un 16 e 18 anni in questo giorno
ed età, ma penso di aver fatto. Quello che un bellissimo posto!"
–Eva, Matt e Ben Nekola: Grinnell, Iowa
Con preavviso il nostro staff sarà lieto di fornirvi "baby-sitting" services while the older members of the family are on rides.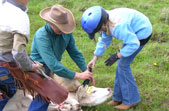 Il nostro staff non mancherà di tenere i vostri bambini occupato l'alimentazione dei pesci nello stagno, giocare in altalena, alla ricerca di oro, or with indoor projects if necessary. On the first night, ragazzi giovani e meno giovani sono riuniti per fare un ranch vacanza necessità sorpresa, e questo è solo l'inizio! Kids are able to actively participate in a sheep-herding demonstration put on by a local herdsman, tre dei suoi Border Collie, and his sheep. Più tardi nel corso della settimana, nella notte di campout, tutti sono invitati a partecipare a giochi falò, ascoltare musica dal vivo, arrosto s'mores, and enjoy the Vee Bar's version of a branding—don't forget your boots, cinghie, portafogli, e cappelli! Your kids will never forget their experience on this kid friendly dude ranch!
Ranch meals are served in the main lodge. Children and adults eat together (contemporaneamente). Meals on the ranch are designed to be suitable family meals, but special requests for the "picky" eaters are acceptable. There is a great deal of flexibility at the Vee Bar, in modo che quando i nostri ospiti hanno suggerimenti e richieste faremo del nostro meglio per soddisfare le loro!
"Volevo farvi sapere quanto la nostra famiglia è piaciuto il vostro meeting
and being at Vee Bar. Le ragazze ed io eravamo molto in lacrime quando abbiamo lasciato.
Avete entrambi toccato i nostri cuori e non dimenticheremo mai il tempo
trascorso con voi due. Il ranch è meraviglioso, ma la vera bellezza di esso
è la tua famiglia. Ci auguriamo che questo fu l'inizio di molti
estati con tutti voi."
–Heidi Strasburg, CA