Pagina Lambert "Letteratura e Paesaggistici del Cavallo" Ritiro
June 1–Giugno 6, 2020 – Ora, prendendo prenotazioni per il ritiro annuale 13 °
For 5 days, we will write about, read about, e di circa cavalli!
Don't worry if you've never ridden a mile, or written a word.
All you need to bring to Wyoming is a willingness
to open your creative heart to the landscape of the horse.
~Page Lambert
Articolo su Forbes.com: Una settimana su un autentico Wyoming Ranch – Lettura, Scrittura e equitazione
Vai al sito ritirata sponsor www.pagelambert.com.
Controlla il volantino dell'evento.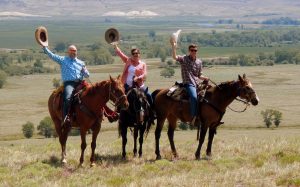 Un cavallo è un animale istintivo. Gli esseri umani, troppo, sono creature istintive. Il nostro ambiente naturale non è tra le quattro mura. Cavalli insegnarci di vivere nel momento presente. Essi ricordano ad impegnarsi con il mondo. Capiscono paura. Capiscono coraggio. Essi "pensare" con i loro esseri interi. Arriveremo a conoscere la nostra cavalli dal suolo. Arriveremo a conoscere la nostra cavalli dalle loro schiene. Andremo in piccoli gruppi formati da nostri livelli di comfort vari. Andremo tra mucche e vitelli neonati in prati di montagna. Andremo insieme attraverso praterie e boschi su percorsi di montagna. Ci condividere le nostre storie di cavalli preferiti e esplorare il cuore creativo della scrittura.
"Ho amato tutto di Letteratura della Pagina & Paesaggio del ritiro Cavallo al Vee Bar. I haven't felt as refreshed from a trip in years — solo a me riempie! It was truly was one of the top five vacations/retreats of my life!"~ Lisa Couturier, autore di Le speranze di Snake e Altri Racconti di Paesaggio Urbano
Page Lambert, Colorado author, and Sheri Griffith, adventurer and co-founder of the Moab Endurance Ride, team up to provide guests with a unique and engaging riding and writing experience. Pagina e Sheri sono state ospitando questo ritiro presso il Vee Bar Guest Ranch dal 2008. This retreat provides guests with extraordinary opportunities and information from two very professional people in their respective industries!
Price: $1,869 plus service charge and tax. $100 sconto se hai frequentato uno dei rifugi della pagina al Vee Bar nel passato!
$400 holds your horse! To sign up, please send this registration form to Page (contact information located within document).
Payment and Cancellation Policy 2020
The following article appeared in Women Out West Magazine. Caricare the full article.