If you are like millions of other people, あなたは経験したことがありません 観光牧場 前, and if you are reading this you are intrigued by the allure of a western experience. Dude ranches became popular in the 1900's when guests from the east, called dudes, came to visit ranches in the west to experience the ranching lifestyle. Guests would stay for weeks or months at a time before returning to the east coast, but not before they made friendships that would keep them and future generations coming back for years! Now times have changed and travel has never been easier. もし 観光牧場 1900年代半ばに経験が活気づいていた, it is exponentially more valuable in our fast-paced twenty-first century society. Demands are placed on us and our families now more than ever. We are perhaps the most connected, yet disconnected, generation. Technology keeps us connected to each other, yet it's the very thing that drives us into a secluded world of our own. あなたが考えないと 観光牧場 休暇はあなたのためです, here is why it IS the vacation for you!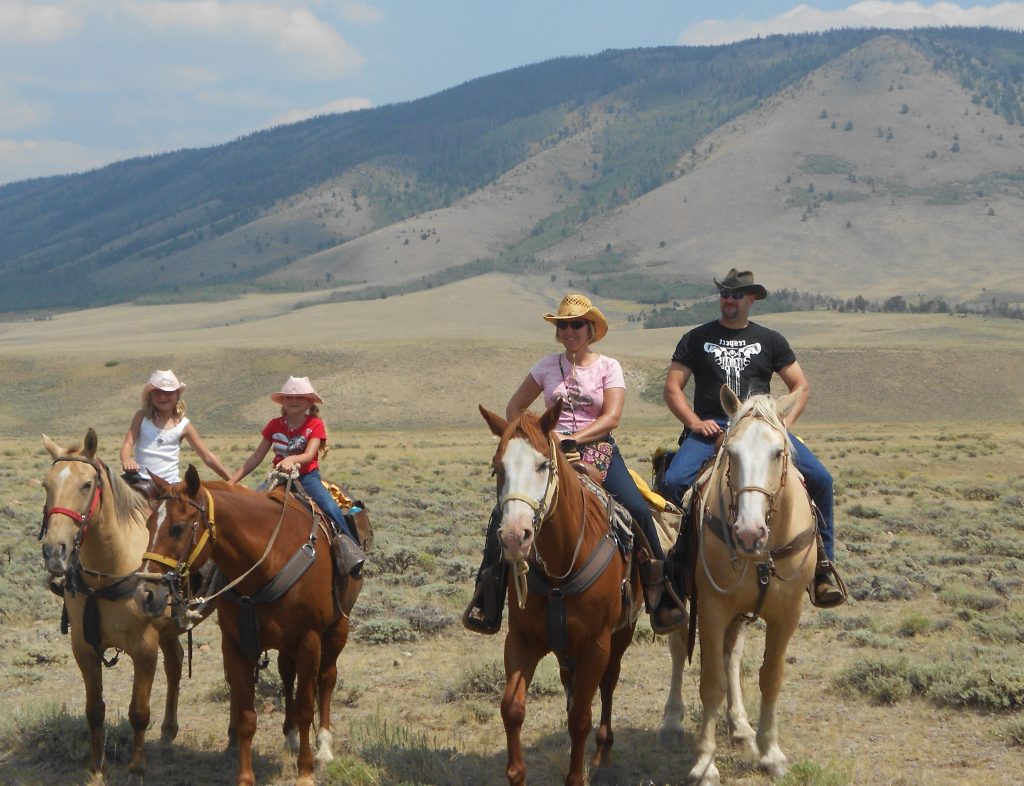 "Reconnect" with the world around you and the ones you love. If you are one of those people who has to check your phone immediately when you get a notification of a text, e-mail, or Facebook message, you are probably like most other Americans! And it's probably true that most members of your family are the same way! How strange is it that we have hundreds of Facebook friends, but many people could run into those friends at the grocery store and wouldn't say hi? There is nothing that compares to personal relationships. With no televisions and limited access to internet and cell phone coverage, families have to set phones aside and find something else to do! They soon find that possibilities are endless. When they aren't out on a horseback ride, they are tubing the river, playing board games, 釣り, より. に来る両親 ヴィーバー ゲストランチはよく言う, "I have never seen my kids sit down together and play board games or cards!"
Kids learn a new kind of entertainment. Parents that I talk to on the phone most often worry about what the kids will do, especially if they don't really "take to" horseback riding. A 観光牧場 休暇はまさにそれらの家族が必要とする休暇のタイプです! Kids are too used to being entertained and not used to using their creative genius to find things to do. In Nature, the possibilities are endless and once kids are free to explore, it is amazing what they come up with! Usually kids (even those who are timid and scared of riding) enjoy riding much more than their parents think! But, when the kids are not riding they are playing tag, exploring the ranch, spending extra time at the barn with the animals, playing pool, tubing the river, playing on the swing set, and then suddenly, there is not much time left in the day!!
Adventure! 楽しみはメニューで ヴィーバー ゲストランチ! With an array of activities to do, the adventurous spirit can take hold! Not only are there a lot of activities (and new ones each season), there are activities that many guests have never done before. Whether it is horseback riding, トラップ射撃, or roping, guests are sure to experience something new and different. Whether it's the thrill of having some risk involved, or the concentration it takes to try something technical (swinging a rope is not as easy as it looks!) that arouses your adventurous side, あなたはそれを行うことができます ヴィーバー. And, when was the last time you tried something new?
馬! A horse is a horse, right? Think again! Maybe this should have been number one, but many people would not guess that when they make their reservations! の訪問者 ヴィーバー 乗馬休暇を成功させるために、事前の乗馬経験は必要ありません. での乗馬プログラム ヴィーバー かなり多様です, and suitable for everybody from beginners to advanced riders. With that said, the majority of guests have no idea what kind of bond they will create with their horse. Guests are matched with one horse for the duration of their stay and many of them think that their horse will be a mode of transportation from point A to point B. What they do not realize is the personality that the horse has, and what a friend their horse becomes! 別のブログトピックは、 馬, Vee Barが良いものを見つけて訓練するために使う厳密な基準のセットが本当にあるからです 馬. More on that another time…
Advice straight from the horse's mouth! Every summer, about 60-70% of business is made up of either guests who are returning for another visit OR people who heard about the Vee Bar from someone who has been to the ranch. So, when I asked our Facebook followers what they would tell potential guests about the top reasons to visit the Vee Bar, they were happy to chime in! Here is what a few of them said:
"You will create wonderful memories that will stay with you forever! That and the fact that the food is awesome, the people so welcoming and the scenery is breathtaking! Best holiday ever!!! Love the Thompsons (UK) oops sorry that's 4 (reasons)!!" ~O. Thompson
"I am sitting here with my dad and his brother both of whom joined my husband, our three kids and my mom on our summer trip to the Vee Bar. I spent four years in Laramie as a kid when my dad was working at the university. There is nothing quite like the beauty of Wyoming, especially on horseback. My family still talks about the 'best vacation we ever took!'" ~L. Vargas
"It's the most beautiful place to tap into your inner cowgirl/cowboy and recharge your spirit. さらに、多くの乗馬 馬 私の人生の中で, 彼らは最高の応答性を持っています 馬 どこでも。」 〜T. Clark
These were only the first few to respond. There were SOOOO many more! To view them on Facebook, try clicking this link.
There ya go! It doesn't get any better than that!