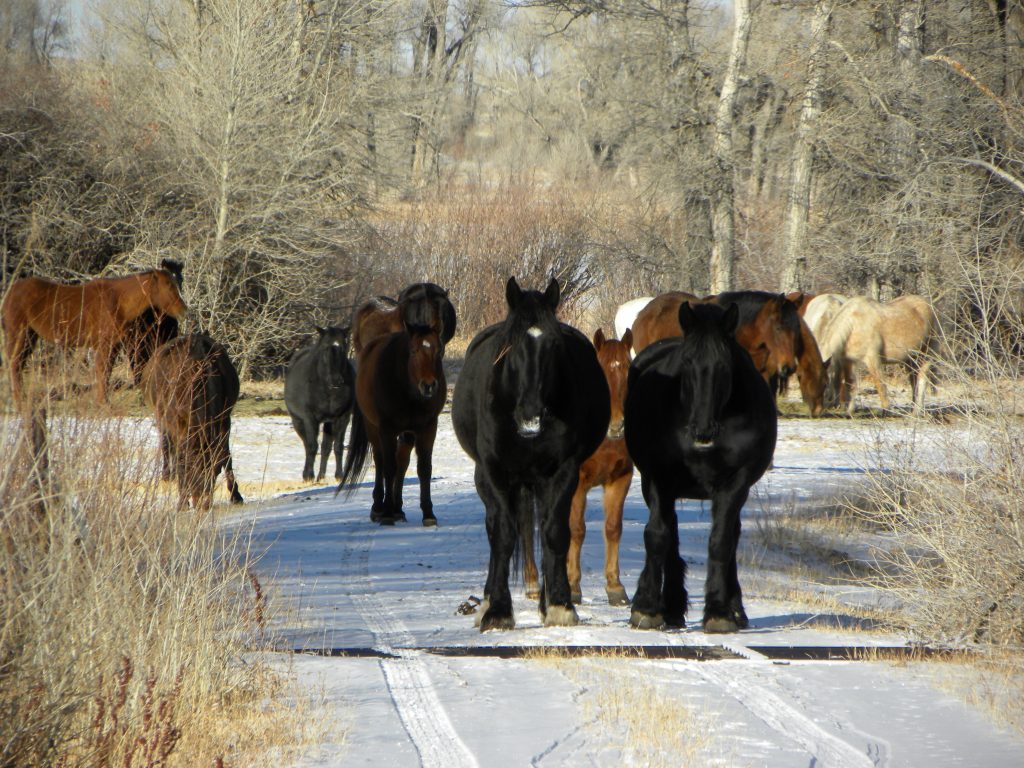 冬は牧場を訪問する美しい時間です! Even though there is a chill in the air, 屋外には冒険であります, inviting place to be. There is nothing quite like fresh winter air especially when there is so much to do! Your family might be due to spend some time together this winter, ので、ここでのリストです 5 あなたの子供は永遠に覚えているだろう事!
馬車ワゴンに乗って移動します. ペルシュロンの私達のチーム, Goliath and Decker, 馬力に新しい意味を置きます!

Being on a wagon pulled by a team of horses often conjures up nostalgic feelings of what it would be like to live in the "old days" when there were not automobiles

.

During winter months

, みんなのひざの上にセットする毛布を持参しての準備 20-30

minute tour through the Vee Bar meadows

.

Upon return to the historic main lodge

, 無料のホットチョコレートのカップに自分自身を助けます.
ヤギをご覧ください, ミニロバや赤ちゃんの馬.

The Vee Bar has its own version of a petting zoo

.

Two friendly goats

, アニー & 厄介な,

wander the grounds around the barn and corrals

.

They are always up for a good rub

!

The mini donkeys also come to the fence to get passers by to dole out some good pets

!
そりを持参またはヴィーバーから1を借ります. ヴィーバーには非常に多くの丘がありません,

but our family has managed to find a couple tried and true places

.

As winter progresses

,

there are some drifts that are perfect for a short thrill ride

.

Another hill can be found in one of the horse pastures

, そしていくつかの新鮮な雪がある限り,

it's an entertaining and close place to sled

.

When snow is scarce at the ranch

,

the mountains beckon

.

Our family can tell you some of our favorite places to go

!

It only takes about

15 偉大な丘の任意の数に駆動する分!
夜のボードゲーム, トランプ, そして、屋外ホットタブにつかります. 一日の終わりに,

many families that visit the ranch find themselves absorbed in board games in the John Wayne Saloon

. At the Vee Bar, キャビン内のテレビではありません, その家族は、エンターテイメントの他の形に描かれています,

and quality time together

.

Maybe you want to battle it out over a Monopoly game

, またはリンゴリンゴへ, 戦艦, プールのゲーム,

or teach your kids how to play a friendly game of poker

.

When the games are done

, 屋外ホットタブにつかるために家族を取ります,

and count the stars

.

Then retreat to your riverside suite or cabin

, ガス暖炉によって加熱, そして夜にダウン段.
S'moresとキャンプファイヤー! 昨年春ヴィーバーはロッジで前の芝生での火災のピットを再構築しました.

With the purchase of a Ranch Escape Package

,

a campfire and s'mores are part of the package

. But, あなただけのカップルの夜のためにここにいる場合, あなたはまだあなた自身の薪とs'mores焙煎物資を持参し、ピットに自分自身を助けることができます.
もちろん, 沢山あります, ヴィーバーゲストランチへの訪問時に行うには他の多くのもの! Downhill skiing and snowshoeing are other popular activities, and many families dine at the Vee Bar at least one night during their stay. チェックアウト私たちの B&Bスペシャル & パッケージ 家族のお得な情報のためのページ, 他のアイデア, そしてより多くの情報!