Breng het hele gezin te Fall vieren, krijgt uw pompoenen, en hebben plezier in het land! The Vee Bar Guest Ranch is happy to announce dates in October where the community can gather for a Fall celebration while supporting a local family-owned business. Activities will take place on October 13 & 14, Oktober 21, en oktober 27 & 28. There will be a pumpkin patch, live muziek, outdoor spelletjes op het grasveld, roping dummies, eten en drinken (opbrengst gaat naar Centennial Elementary School), and horse-drawn wagon rides each day. Other activities will take place on select days, en deze omvatten een barbecue en een schuur dans, een boer tot bord diner, een filmavond in de schuur loft, en huisdier parade een kid's en kostuum wedstrijd. See Plan.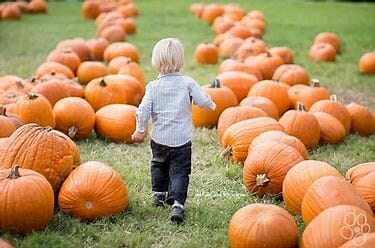 De toegang is $15 aan de deur (of $13 Alvast) voor volwassenen; $13 aan de deur (of $10 Alvast) voor kinderen van 4-12 jaar oud. Call us at 307-745-7036 to order your tickets. Pre-ordered tickets will me mailed to you and they are good for one day, elke dag tijdens het evenement!
Vee Bar Guest Ranch Hay Days-A Fall Celebration
The Nitty Gritty
($) Geeft en tegen betaling, niet opgenomen in toegangsbewijs
Pumpkin Patch ($)
De pompoen patch te voet worden, located close to the main lodge. The pumpkin patch will include pumpkins of varying sizes and you will be free to hunt for the perfect pumpkins! Pumpkin prices will be $2 voor kleine (taart afmetingen), $9 voor middelgrote (basketbal size), en $12 voor grotere pompoenen.
spelletjes op het grasveld & roping dummies
De voortuin van de lodge is de perfecte landschap voor een verscheidenheid aan games, waaronder Cornhole (bag toss), Ladder Ball, hoefijzerkuilen, volleyball, zandbak, and croquet. Try your hand at roping, te! These games will be available throughout the event! All of these activities are included with admission.
Food and Drink
There will be a small selection of snacks available during the event. Proceeds from the food and drink tables will be donated to Centennial Elementary School PTA.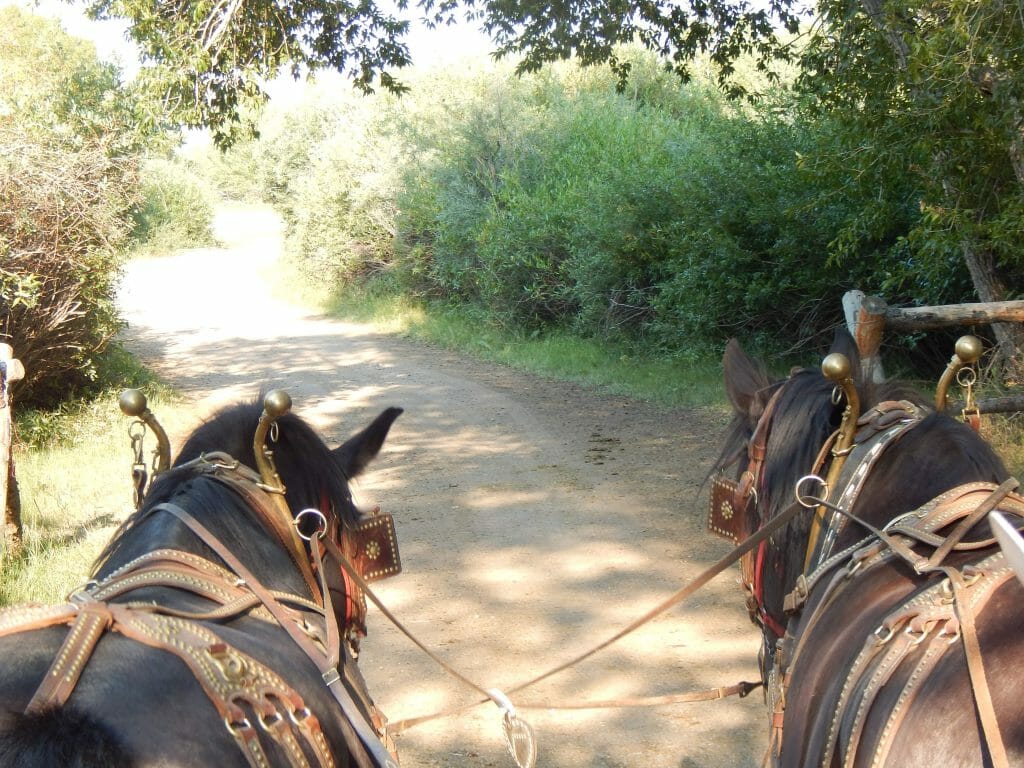 Door paarden getrokken wagen Rides
Ontmoet ons team, Goliath and Decker! They will be on duty for a couple hours each day of the event. They like to have their pictures taken, maar de meeste van alle, ze houden ervan om de grote wagen te trekken en geven rondleidingen door de ranch weilanden! Wagon rides are included with the price of admission, but they don't go all day. Check the planning voor beschikbare tijden.
Werken Sheep Dog Demonstration
Billy Pickel has entertained the Vee Bar's summer guests for years with his Border Collie dogs. He is a retired school teacher and he continues to share his passion and hobby with others: training dogs to work sheep. The demonstration is scheduled to be outside, maar als Moeder Natuur gooit een moersleutel in die plannen, the demonstration will take place in the indoor arena. This demonstration is included with the price of admission. See planning voor beschikbare tijden. The demonstration lasts roughly 30-45 minutes.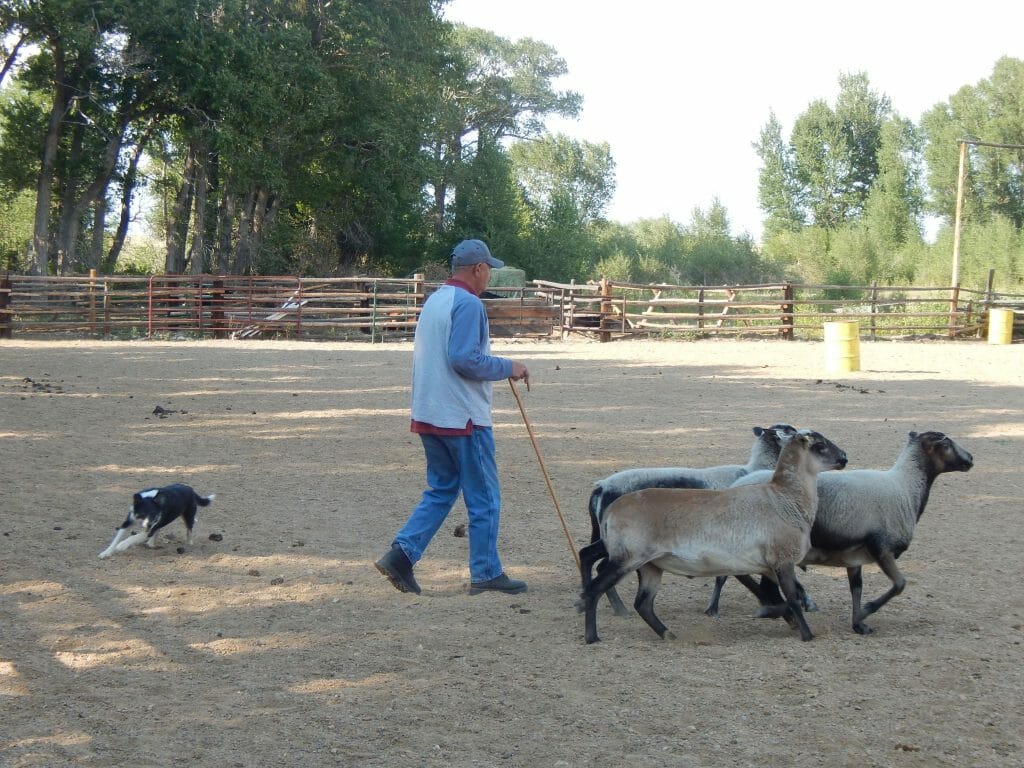 Farm to Table Dinner ($)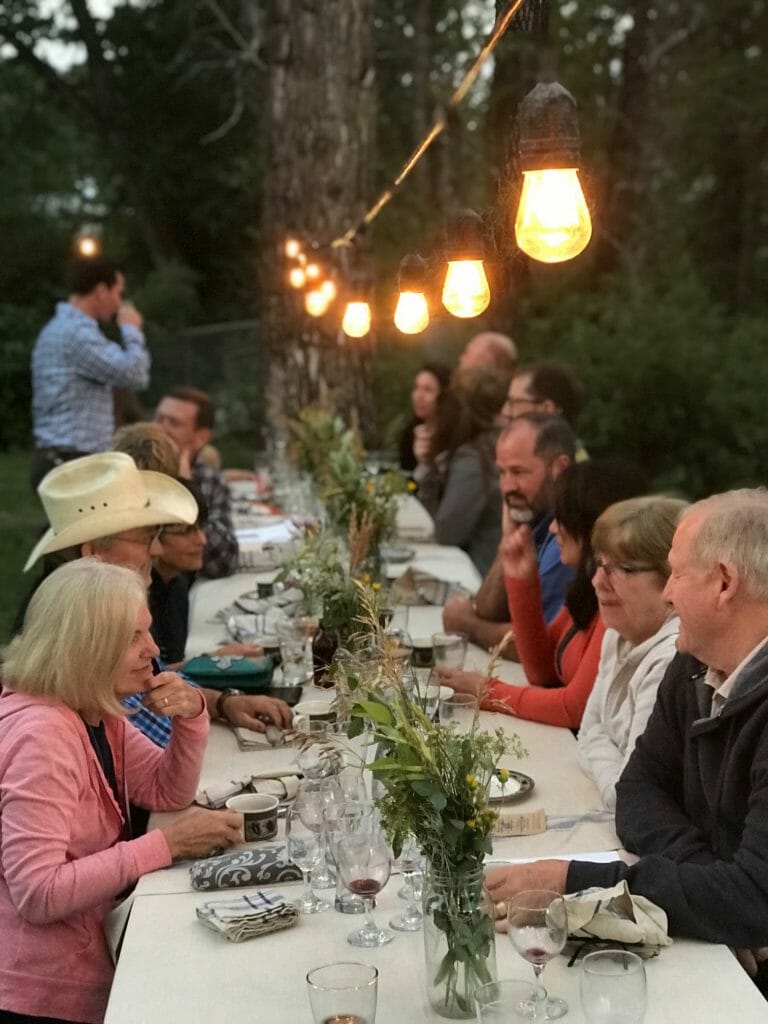 In de zomer van 2018, the Vee Bar partnered with Black Market Farms. They offered up some delicious, Zelfgeteelde en lokaal geproduceerde maaltijden op zaterdagavond de hele zomer! Black Market Farms is owned by the Matt and Gina Sigel from the Centennial Valley. Reservations are required in advance and the extra cost will be $49 per persoon.
Barbecue en Barn Dance ($ voor slechts BBQ voedsel)
Iedereen is welkom om de schuur dans oktober te komen 13! The location will be, goed, in de schuur! Live music will be
provided courtesy of Brent and Greg Kilmer. Music will begin at 5:00 en het diner wordt geserveerd vanaf 5:30. Enough food will be provided for the first 150 mensen. No reservations are necessary, en je kunt verblijven 'til de koeien thuiskomen ... of totdat de muziek eindigt bij 9:00. The extra cost for the BBQ is $20 per volwassene en $10 voor kinderen van 4-12 jaar. Bring cash, alsjeblieft!
Mounted Archery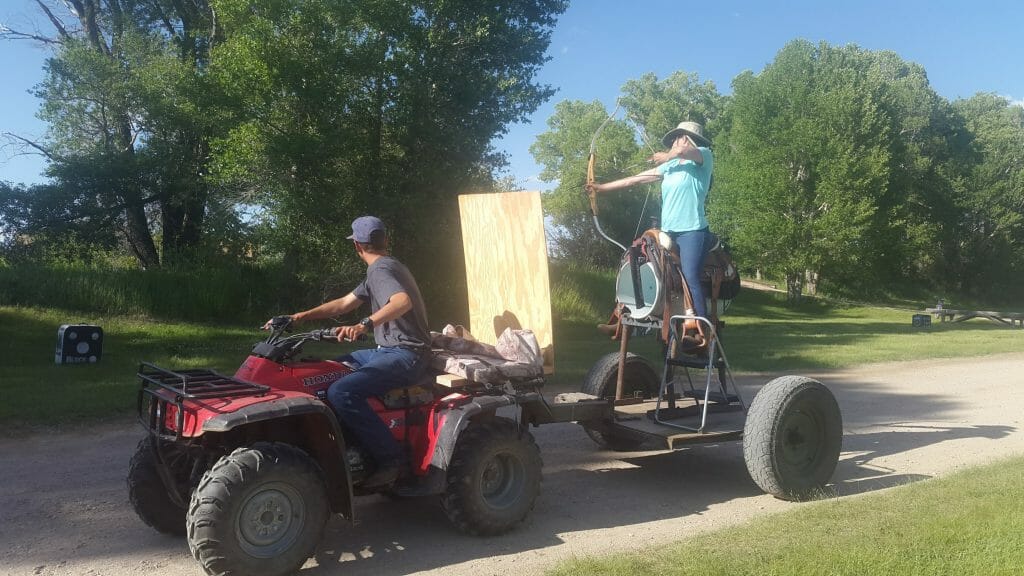 Zomergasten genoten van een nieuwe en populaire activiteit op de ranch!
Na verzoeken van een paar gasten, en een real-life gemonteerd boogschieten demonstratie, our guests requested the activity. Since we couldn't allow guests to shoot off a real horse, de volgende beste optie was onze dummy-horse, en dus hebben we een! It is pulled by a 4-wheeler and guests have the chance to shoot at targets as they pass by! This activity is included with admission. Check the planning voor beschikbare tijden.
Film in de schuur–Ferdinand
We hebben onlangs een western-stijl bioscoop in de schuur loft! The big old barn once served as a stage coach stop—who knew it would one day be a space where families would get cozy in camp chairs with their popcorn and enjoy such entertainment?! The movie is included with admission. Controleren planning voor beschikbare tijden.
Pet Parade & Costume Contest
Tijd om te kleden de kinderen en de familie huisdier en uit te komen voor een dag vol plezier! Who doesn't love a pet parade, vooral wanneer schattige kinderen en huisdieren knuffelig zijn betrokken?! Kids can enter the parade with or without a pet. If they enter without a pet, they will still be judged on their costume. There will be several categories including Best Homemade Costume, best Costume (kinderen leeftijden 5 en onder); best Costume (kinderen leeftijden 6-9); best Costume (kinderen leeftijden 10-13), bijpassende pet en persoon kostuum, en. The pet parade will be at 3:00 op zondag, Oktober 28th. Inzendingen moeten tegen de middag te worden geregistreerd op zaterdag, Oktober 27. Download the Pet Parade en Costume Contest Entry Form.