Als je net als miljoenen andere mensen, you have never experienced a ranch before, and if you are reading this you are intrigued by the allure of a western experience. Dude ranches became popular in the 1900's when guests from the east, riep dudes, came to visit ranches in the west to experience the ranching lifestyle. Guests would stay for weeks or months at a time before returning to the east coast, maar niet voordat ze maakten vriendschappen die hen zou houden en toekomstige generaties terugkomen voor jaren! Now times have changed and travel has never been easier. If a ranch experience was revitalizing in the mid-1900's, it is exponentially more valuable in our fast-paced twenty-first century society. Demands are placed on us and our families now more than ever. We are perhaps the most connected, nog losgekoppeld, generation. Technology keeps us connected to each other, yet it's the very thing that drives us into a secluded world of our own. If you don't think a ranch vacation is for you, hier is de reden waarom het is de vakantie voor u!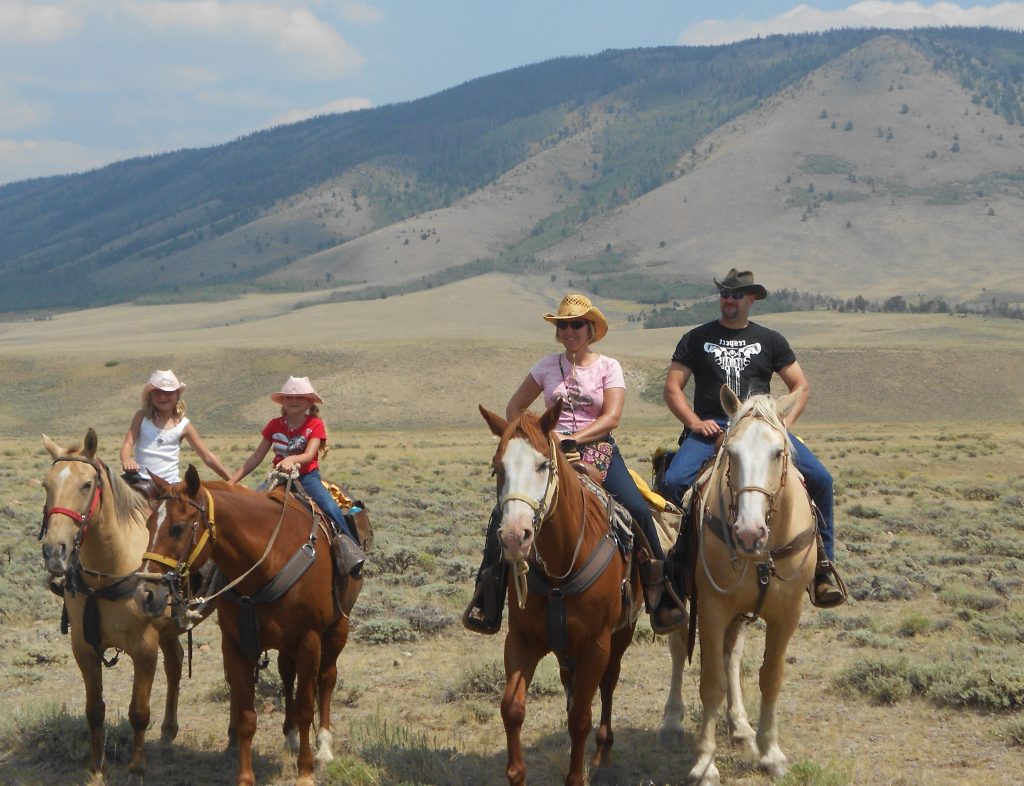 "Sluit" met de wereld om je heen en de degene die je liefde. If you are one of those people who has to check your phone immediately when you get a notification of a text, e-mail, of Facebook-bericht, bent u waarschijnlijk net als de meeste andere Amerikanen! And it's probably true that most members of your family are the same way! How strange is it that we have hundreds of Facebook friends, maar veel mensen kunnen tegenkomen die vrienden in de supermarkt en zou niet zeggen hi? There is niks that compares to personal relationships. With no televisions and limited access to internet and cell phone coverage, families moeten telefoons opzij anders ingesteld en vind iets te doen! They soon find that possibilities are endless. When they aren't out on a horseback ride, ze zijn tubing de rivier, bordspellen spelen, visvangst, en.

Parents who come to the

Vee Bar

Guest Ranch often say

, "Ik heb nog nooit mijn kinderen zitten bij elkaar en spelletjes doen of kaarten!"
Kinderen leren van een nieuwe vorm van entertainment. Ouders die ik om te praten over de telefoon het meest zorgen over wat de kinderen zullen doen, especially if they don't really "take to" horseback riding. Een ranch

vacation is exactly the type of vacation those families need

! Kids are too used to being entertained and not used to using their creative genius to find things to do. In Nature, de mogelijkheden zijn eindeloos en eenmaal kinderen zijn vrij om te verkennen, Het is verbazingwekkend wat ze komen met! Usually kids (zelfs degenen die zijn timide en bang van het rijden) genieten van het rijden veel meer dan hun ouders denken! But, als de kinderen niet rijden ze spelen tag, het verkennen van de ranch, besteding van de extra tijd in de schuur met de dieren, pool spelen, tubing de rivier, spelen op de schommel, en dan plotseling, er is niet veel tijd meer over in de dag!!
Avontuur!

Fun is on the menu at the

Vee Bar Guest Ranch! Met een scala aan activiteiten te doen, de avontuurlijke geest kan hold nemen! Not only are there a lot of activities (en nieuwe elk seizoen), there are activities that many guests have never done before. Whether it is horseback riding, trap schieten, of roping, guests are sure to experience something new and different. Whether it's the thrill of having some risk involved, of de concentratie die nodig is om iets te technisch te proberen (swingende een touw is niet zo eenvoudig als het lijkt!) dat wekt uw avontuurlijke kant,

you can do it at the

Vee Bar. And, wanneer was de laatste keer dat je iets nieuws geprobeerd?
Paarden! A horse is a horse, rechts? Think again! Maybe this should have been number one, maar veel mensen zouden niet raden dat wanneer zij hun reserveringen!

Visitors at the

Vee Bar

do not need to have any prior riding experience to have a successful riding vacation

.

The riding program at the

Vee Bar

is quite diverse

, and suitable for everybody from beginners to advanced riders. With that said, the majority of guests have no idea what kind of bond they will create with their horse. Guests are matched with one horse for the duration of their stay and many of them think that their horse will be a mode of transportation from point A to point B. What they do not realize is the personality that the horse has, en wat een vriend van hun paard wordt!

Another blog topic will be more about the

paarden,

because there really is a strict set of criteria that the Vee Bar uses to find and train good

paarden. More on that another time…
Advies recht uit de mond van het paard! Elke zomer, over 60-70% of business is made up of either guests who are returning for another visit OR people who heard about the Vee Bar from someone who has been to the ranch. So, toen ik vroeg onze Facebook volgers wat zij zouden potentiële gasten vertellen over de belangrijkste redenen om de Vee Bar bezoeken, ze waren blij om klokkengelui! Here is what a few of them said:
"U zult prachtige herinneringen die bij je voor altijd zal blijven creëren! Dat en het feit dat het eten is geweldig, de mensen zo gastvrij en het landschap is adembenemend! Beste vakantie ooit!!! Ik hou van de Thompsons (UK) oops droevig dat is 4 (redenen)!!"De ~. Thompson
"Ik zit hier met mijn vader en zijn broer die beiden lid geworden van mijn man, onze drie kinderen en mijn moeder op onze zomer reis naar het Vee Bar. Ik heb vier jaar in Laramie als een kind toen mijn vader werkte bij de universiteit. Er is niets heel graag de schoonheid van Wyoming, vooral te paard. Mijn familie praat nog steeds over de 'beste vakantie die we ooit hebben!'" ~L. Vargas
"Het is de mooiste plek aan te boren in je innerlijke cowgirl / cowboy en laad uw geest. Plus having ridden many paarden in my life, they have the best most responsive paarden anywhere." ~T. Clark
Dit waren alleen de eerste reactie. There were SOOOO many more! To view them on Facebook, try clicking this link.
Daar ga je! It doesn't get any better than that!