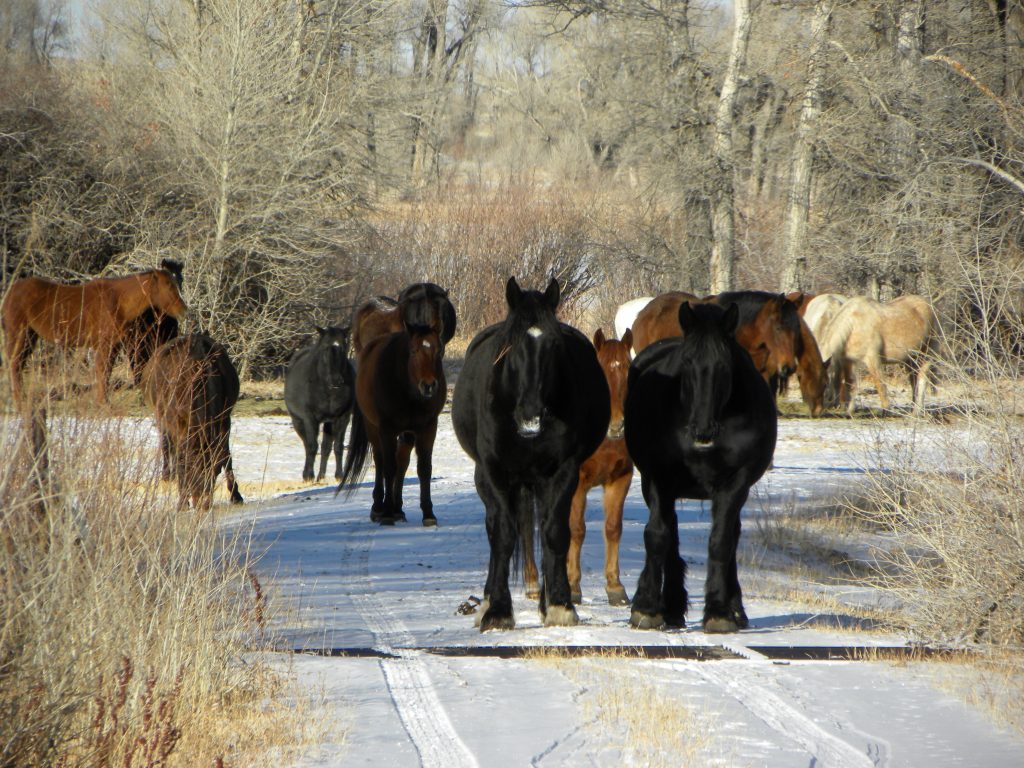 De winter is een mooie tijd om de ranch te bezoeken! Ook al is er een chill in de lucht, de natuur is een avontuurlijke, uitnodigende plek om te zijn. Er is niets heel graag frisse winterlucht vooral wanneer er zoveel te doen! Uw familie zou te wijten zijn aan wat tijd samen deze winter door te brengen, dus hier is een lijst van 5 dingen die je kinderen altijd zal herinneren!
Ga op een paard en wagen rijden. Ons team van Percherons, Goliath and Decker, zet een nieuwe betekenis aan horse-power! Omdat het op een wagen getrokken door een team van paarden roept vaak nostalgische gevoelens van hoe het in de "oude tijd" toen waren er geen auto's om te leven zou zijn. Tijdens de wintermaanden, breng een deken te stellen over ieders schoot en maak je klaar voor een 20-30 minuten durende tour door de Vee Bar weiden. Bij terugkeer naar de historische hoofdgebouw, help jezelf om van een gratis kopje warme chocolademelk.
Bezoek de geiten, miniezel en baby paarden. Het Vee Bar heeft zijn eigen versie van een kinderboerderij. Twee vriendschappelijke geiten, Annie & vervelend, dwalen het terrein rond de schuur en kralen. Ze zijn altijd in voor een goede wrijven! De mini-ezels komen ook naar het hek aan voorbijgangers krijgen door het uitdelen aantal goede huisdieren!
Breng een slee of lenen van de Vee Bar. Er zijn niet heel veel heuvels aan de Vee Bar, maar onze familie is erin geslaagd om het vinden van een paar beproefde plaatsen. Als de winter vordert, er zijn een aantal afwijkingen die perfect zijn voor een korte sensatie rit zijn. Andere heuvel kan worden gevonden in een van de paardenweide, en zolang er wat verse sneeuw, het is een leuke en dicht plek om te slee. Bij sneeuw is schaars op de ranch, de bergen lonken. Onze familie kunt u een aantal van onze favoriete plekken om te gaan vertellen! Het duurt slechts ongeveer 15 minuten rijden naar een aantal grote heuvels!
Evening bordspellen, Kaartspellen, en een duik in het bubbelbad buiten. Aan het einde van de dag, Veel gezinnen die de ranch te bezoeken bevinden zich verdiept in bordspellen in de John Wayne Saloon. At the Vee Bar, Er zijn geen televisies in de hutten, dus families voelen zich aangetrokken tot andere vormen van entertainment, en quality time samen. Misschien wilt u het uit te vechten over een Monopoly spel, of appels Appels, Battleships, een spelletje pool, of leer uw kinderen hoe ze een vriendschappelijke wedstrijd van poker te spelen. Wanneer de games zijn gedaan, neem de familie voor een duik in het bubbelbad buiten, en tel de sterren. terugtrekken vervolgens naar uw riverside suite of cabin, verwarmd door een gashaard, en een stapelbed voor de nacht.
Kampvuur met S'mores! Afgelopen voorjaar de Vee Bar herbouwde de vuurkorf in de voortuin bij de lodge. Met de aankoop van een Ranch Escape Package, een kampvuur s'mores maken deel uit van het pakket. But, als je hier bent voor slechts een paar nachten, kunt u nog steeds uw eigen brandhout en s'mores roosteren voorraden en kunt u genieten van de put.
Natuurlijk, er zijn veel, veel andere dingen te doen tijdens uw bezoek aan de Vee Bar Guest Ranch! Downhill skiën en sneeuwschoenwandelen zijn andere populaire activiteiten, en veel gezinnen dineren in het Vee Bar ten minste één nacht tijdens hun verblijf. Kijk op onze B&B Specials & Colli pagina voor familie deals, andere ideeën, en meer informatie!