Pagina Lambert's "Literatuur en Landschap van het Paard" Retreat
June 1–Juni 6, 2020 –
Now taking reservations for the 13th annual retreat
For 5 days, we will write about, read about, and be about paarden!
Don't worry if you've never ridden a mile, or written a word.
All you need to bring to Wyoming is a willingness
to open your creative heart to the landscape of the horse.
~Page Lambert
Artikel over Forbes.com: Een week op een authentieke Wyoming Ranch – Lectuur, Schrijven en Riding
Ga naar de retraite sponsors website www.pagelambert.com.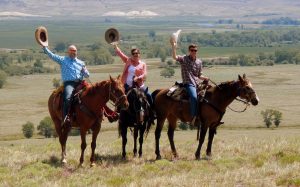 Een paard is een instinctieve dier. Mensen, te, zijn instinctieve wezens. Onze natuurlijke omgeving is niet tussen vier muren. Paarden teach us about living in the present moment. Ze herinneren ons eraan dat zij bezig zijn met de wereld. Ze begrijpen angst. Ze begrijpen moed. Ze "denken" met hun hele wezen. We'll get to know our paarden van de grond. We'll get to know our paarden from their backs. We rijden in kleine groepjes gevormd door onze verschillende comfort niveaus. We rijden onder de koeien en pasgeboren kalveren in bergweiden. We zullen samen rijden over open graslanden en op beboste bergpaden. We delen onze favoriete paard verhalen en ontdek de creatieve hart van het schrijven.
"Ik hield van alles over Pagina's Literature & Landscape of the Horse retreat at the Vee Bar. I haven't felt as refreshed from a trip in years — het gewoon vulde me! It was truly was one of the top five vacations/retreats of my life!"~ Lisa Couturier, auteur van De hoop van de Slang en Andere Tales from the Urban Landscape
Page Lambert, Colorado author, and Sheri Griffith, adventurer and co-founder of the Moab Endurance Ride, team up to provide guests with a unique and engaging riding and writing experience. Page and Sheri have been hosting this retreat at the Vee Bar Guest Ranch since 2008. This retreat provides guests with extraordinary opportunities and information from two very professional people in their respective industries!
Price: $1,869 plus service charge and tax. $100 discount if you have attended one of Page's retreats at the Vee Bar in the past!
$400 holds your horse! To sign up, please send this registration form to Page (contact information located within document).
Payment and Cancellation Policy 2020
The following article appeared in Women Out West Magazine. Download the full article.