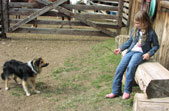 We are a family-friendly ranch, and thus, a kid friendly dude ranch. Children of all ages are welcomed with open arms.  While the outdoors provides a great deal of education and entertainment, there are other activities in which kids can partake.  Children must be 6 years old or older to ride by themselves out on the trails.  Younger children are invited to be at the barn before and after the "main" rides arrive/depart for their turn at a lead-around.  Our team of wranglers enjoy taking kids on their lead-around, past the cabins, a pond, and a little way from the barn.  All evening activities are kid-friendly, but they are usually out making new friends, while adults are socializing and finishing their meals
"My sons and I are here to visit WyoTech on Monday. We traveled here
from Iowa. It isn't easy to impress a 16 and 18 year old in this day
and age but I think I did. What a beautiful place!"
–Eva, Matt and Ben Nekola: Grinnell, Iowa
With prior notice our staff is happy to provide "baby-sitting" services while the older members of the family are on rides.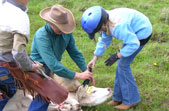 Our staff will keep your children busy feeding the fish in the pond, playing at the swing set, looking for gold, or with indoor projects if necessary.  On the first night, kids young and old are gathered to make a surprise ranch-vacation necessity, and that's only the beginning!  Kids are able to actively participate in a sheep-herding demonstration put on by a local herdsman, three of his Border Collies, and his sheep.  Later in the week, on campout night, everybody is welcome to participate in campfire games, listen to live music, roast s'mores, and enjoy the Vee Bar's version of a branding—don't forget your boots, belts, wallets, and hats! Your kids will never forget their experience on this kid friendly dude ranch!
Ranch meals are served in the main lodge.  Children and adults eat together (at the same time).  Meals on the ranch are designed to be suitable family meals, but special requests for the "picky" eaters are acceptable.  There is a great deal of flexibility at the Vee Bar, so when our guests have suggestions and requests we will do our best to accommodate them!
"I wanted to let you know how much our family enjoyed meeting yours
and being at Vee Bar. The girls and I were very tearful when we left.
You have both touched our hearts and we will never forget the time
spent with you both. The ranch is wonderful, but the real beauty of it
is your family. We hope that this was the beginning of many
summers with you all."
–Heidi Strasburg, CA