We know there are those looking for an adults only ranch vacation. Here it is.
Aug. 26-September 1, 2018– 
We have a last-minute opening for a three-night package, August 26–29, 2018 in cabin #1!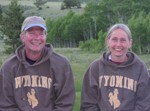 Although the majority of our summer is dedicated to families with kids, a week that has been growing in popularity over the past couple of years is back again! The Adult-Only ranch vacation week is for couples, singles, men, and women. We understand that adults sometimes need their own space. Even those with kids need time away. This adults only ranch vacation is for adults to hang out and experience the ranch lifestyle with other adults looking for the same thing. You'll enjoy horseback riding, hiking, fishing, and other activities at the Vee Bar as well as evening entertainment and meals. This week sold out since 2013!
My husband and I have shared many special occasions here, though it has been six years since we've been here, it's nice to see the quality of the Vee Bar has not changed. Thank you for the wonderful stay. We hope to come back again and again, and someday share this special place with our children. –Laton and Paula; Minneapolis, MN