A Friendly Family Guest Ranch
The Vee Bar is a family friendly guest ranch as well as a fully family owned and operated ranch. 3 generations of Cole's have worked tirelessly to make the Vee Bar a place that makes you feel like part of our family. Come enjoy the ranch and become part of the Vee Bar family. 🙂
Lefty and his late wife, Carla, have a total of three kids and seven grandkids, all of whom lived on a ranch about 10 miles from the Vee Bar. As the grandkids got old enough, almost all of them began working various jobs at the Vee Bar. Kari, Lefty's oldest granddaughter, began working at the Vee Bar as a wrangler at the age of 14 and continued that as a summer job through college. Kari also worked as a waitress during the winter months.
During college, Kari met Brent Kilmer and they were married in 2005. Brent began work as a wrangler at the Vee Bar during the summer of 2004. Both Kari and Brent graduated college in 2005 and they moved to Fleming, Colorado where Brent taught music in a K-12 rural school. During that year, Lefty made an offer to both of them to come back and take over the management of the Vee Bar.
With an offer that was hard to refuse, Kari and Brent moved back to the Vee Bar in May of 2006, on their first-anniversary date. Kari and Brent currently manage the Vee Bar and Lefty is enjoying his re-retirement! Kelly is very busy with Deerwood Log Homes.
Kari and Brent have a daughter, Bailey, who was born in 2010, a son Jasper who was born in August of 2015, and McKayla who was born in October of 2017.
Kari usually works in the office and oversees the dining room staff, housekeepers, and cooks. Brent is head-wrangler and oversees the wrangling crew in the summer. During the winter Brent is the main bartender, fix-it man, and snow-shoveler. He is the year-round brain behind our more creative projects (such as our outdoor movie screen) and a year-round story-teller.
Both Kari and Brent (and kids) will be your hosts during your stay at the ranch. During the summer months, you are likely to meet many other members of the Cole and Kilmer families.
The Cole Family
Lefty and Carla Cole started a 4 generation family business when they opened the Vee Bar Guest Ranch in 1994.
The Kilmer Family
Brent Kilmer and Lefty's granddaughter Kari (and their kids Bailey, Jasper, and McKayla) are now in charge of operations.
The Vee Bar Family
We have long-time employees that we are happy to call family, and they and our family work hard year round on the ranch to keep things top-notch for your visit.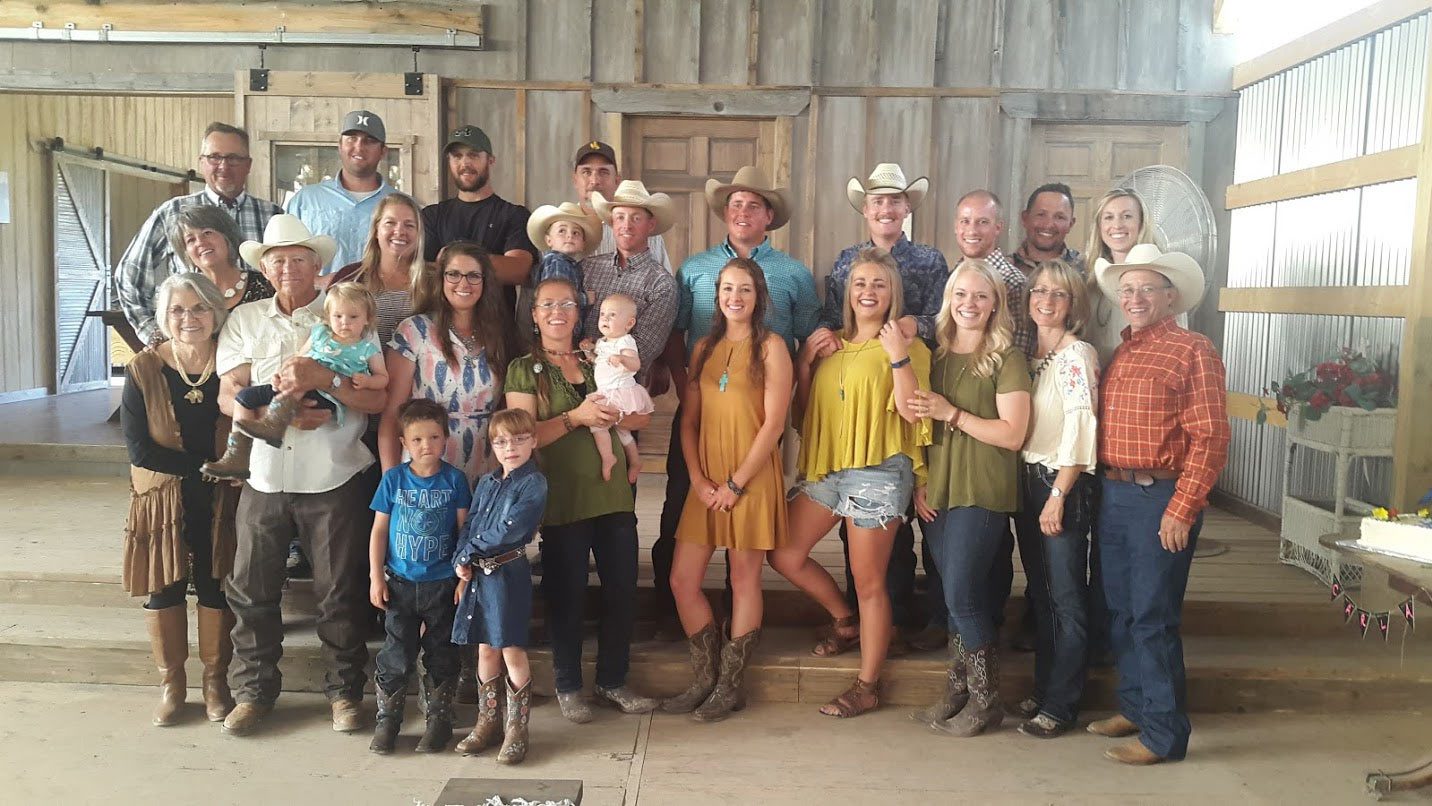 2nd trip to the Vee Bar – even more enjoyable than the 1st and it was great. Brent, Kari, all the staff are wonderful folks to interact with and take the time to make the vacation time enjoyable on all levels. The time flies by at the Vee Bar with activities for everyone. Can't say enough about the mountain ride and fireside cookout …. will be remembered for a long time"
If you would like to check availability, please go to our check availability page. If you have other questions or comments, please go to our contact page. You can also email us from your email program by clicking here or copying and pasting veebar@veebar.com into your program.