The rustic exterior and interior of the Riverside Suites match the rustic look of the historic lodge built in the 1800's. The interiors offer modern conveniences surrounded in antique furnishings preserved from ranching days.
Imagine sitting by the banks of the Little Laramie River watching freshwater trout rise as the ripples slowly fade to nothing. The willow leaves dance in the wind. Experience pure tranquility as you sit on the porch outside your Riverside Suite cabin. When you open the door to the cabin and step inside, you catch your breath. Each cabin is comfortably decorated with a western theme. You catch yourself smiling as you look around at the antique and log furnishings. There is a spacious seating area in the main room and the queen-size bed is inviting you to melt under its warm blankets and cozy quilts. The flames in the gas fireplace glow a soft orange. A separate bedroom has two comfortable twin beds. The full-size bathroom has a Jack and Jill vanity, washer and dryer, and a small refrigerator and coffee-maker. Staying in a cozy Riverside Suite cabin makes your hectic day-to-day whirlwind life suddenly slow down to a crawl and you realize you can breathe—deeply.
The Riverside Suites, located near the lodge & hot tub include:
Two private bedrooms
Full bath
Small refrigerator
Coffee maker
Hair dryer
All are within walking distance to the lodge and sit along the banks of the Little Laramie River.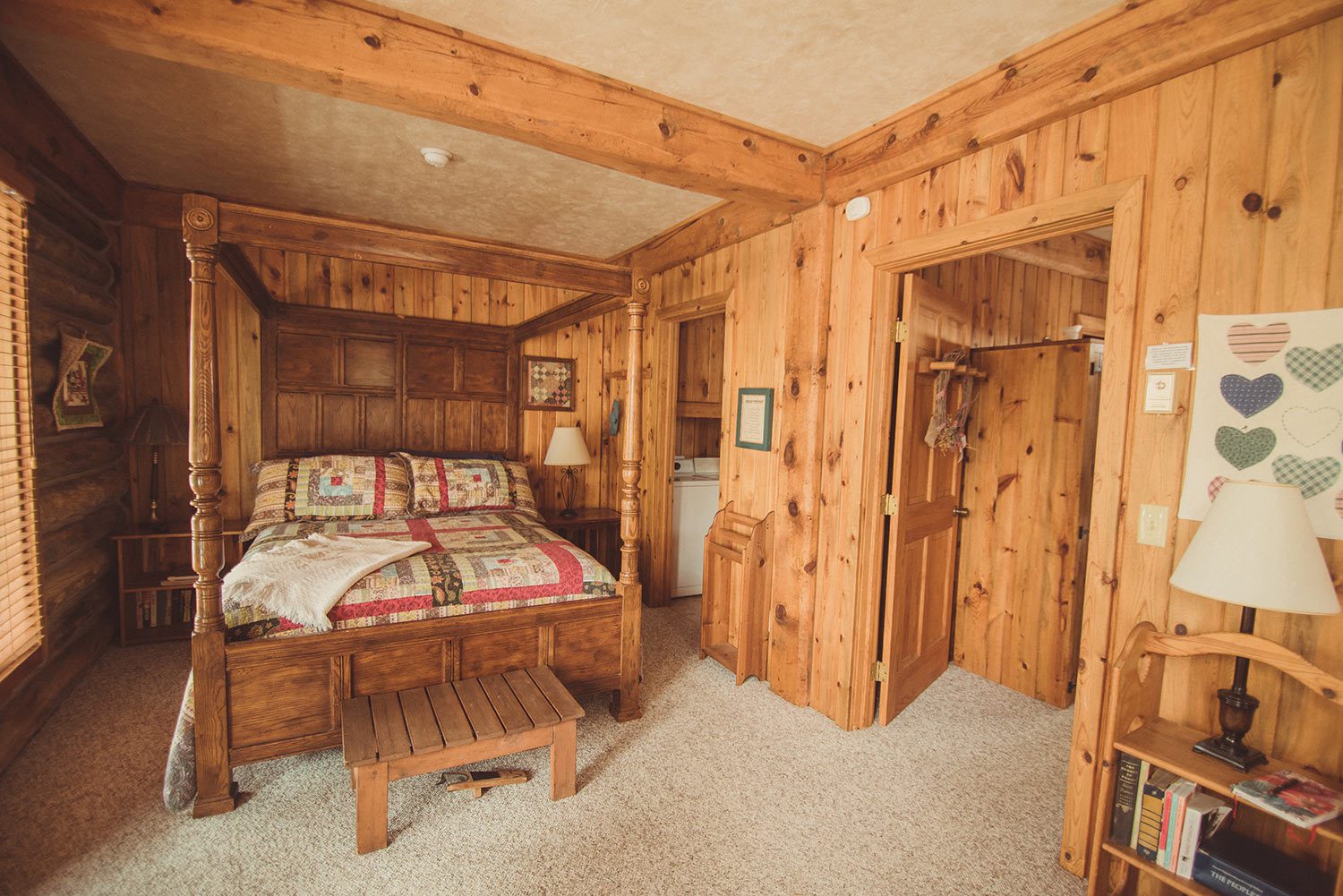 Questions about Our Accommodations:
(307) 745-7036
Photos of the Riverside Suites
If you would like to check availability, please go to our check availability page. If you have other questions or comments, please go to our contact page. You can also email us from your email program by clicking here or copying and pasting veebar@veebar.com into your program.