The chefs of the Vee Bar Guest Ranch are serious about their craft. Come enjoy the best bed and breakfast dining in the region.
Breakfast Buffet
Bed and breakfast dining includes breakfast buffets featuring fresh fruit, h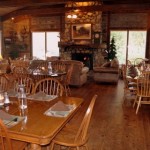 ome made breakfast breads and muffins, sunflower seed bread for toast, homemade granola, and a rotation of hot items such as French toast, pancakes, biscuits and gravy, sausage, bacon, eggs, and hash browns. A variety of juices, tea, and coffee are available with breakfast.  Please let us know in advance if you have any dietary needs.
Group and Company Dinners & Christmas Parties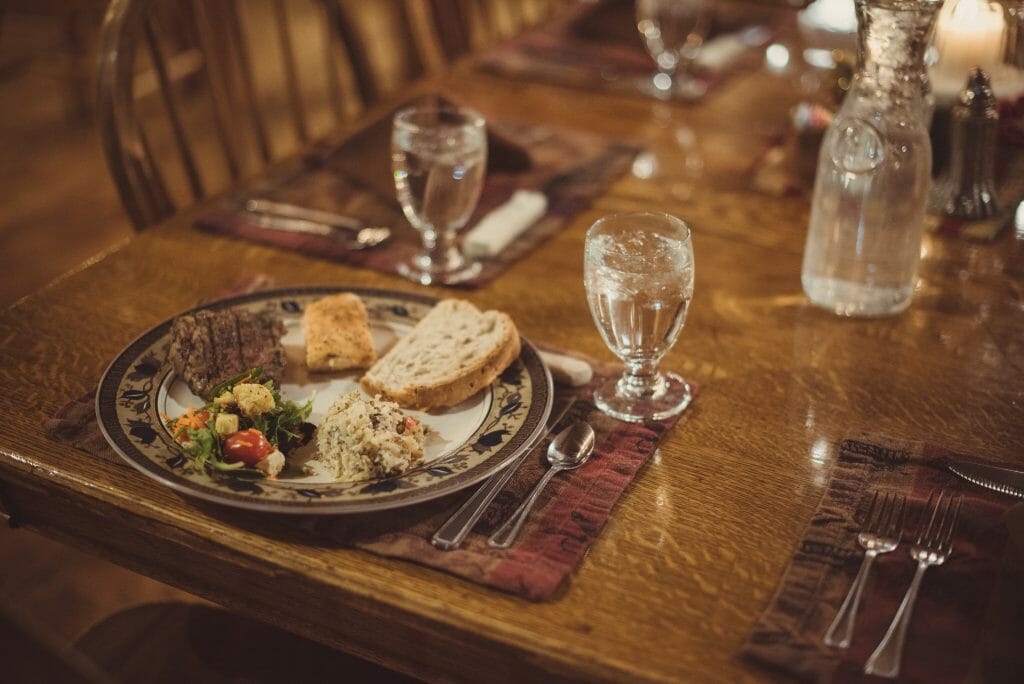 Make dinner reservations for your next company party or group event.  Dinners will be served buffet-style and there are a variety of menus that will accommodate everyone in your group!  Maximum dining capacity is 50 people and the minimum group size is 12 people.  Please let us know in advance if anyone in your group has special dietary needs.  We recommend that your group schedules a social hour in The John Wayne Saloon one hour prior to dinner.  The Vee Bar has a full-service bar complete with a selection of beer, wine, and liquor.  We will work with you to schedule the perfect event!  Maybe you want to schedule a horse-drawn wagon ride for the event, or have a campfire, or dine outside.  The possibilities are endless!
Dinners Open to the Public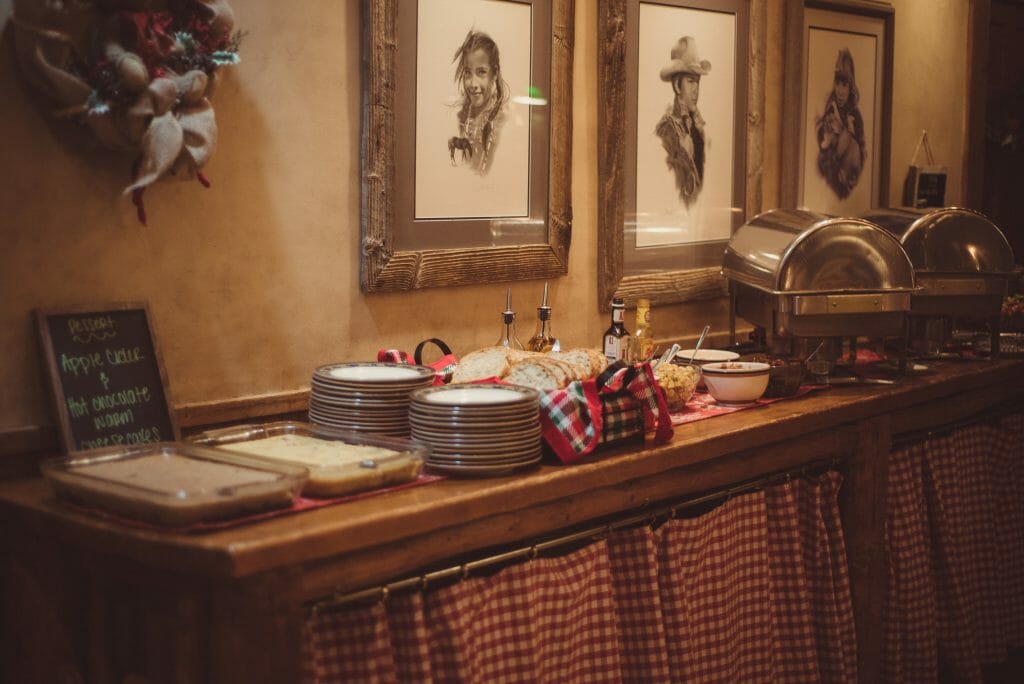 If you have been hoping to dine at the ranch, here is your chance!  The Vee Bar is open to the public for dinners on a few upcoming dates.  Reservations are required and remaining space is available on a first come, first serve basis.  There is space
March 10–Prime Rib buffet
March 12*  Music, dining, and lodging special. 
On the menu:  Beef or chicken Wellington, squash medley, and potato casserole, tossed salad, homemade bread, dessert- $25 adults, $12 kids  Lodging special! 20% off lodging when you also have dinner reservations–one night only!
March 13 — Blackened mahi-mahi, seafood gumbo, crawfish Etouffee, rice, Cajun style corn, tossed salad, dessert- $23 adults, $12 kids
March 14 –Signature marinated ribeye, shrimp, twice-baked potatoes, and green beans, tossed salad, homemade bread, dessert- $28 adults, $12 kids
March 15–Pasta bar with meatballs and chicken, Alfredo and marinara sauces, rice, asparagus, tossed salad, dessert- $18 Adults, $12 kids
March 17*– Happy St. Patrick's Day! – Corned beef, cabbage, Irish potato salad, and Irish soda bread- $18 adults, $12 kids  **Music by Davis and Mavrick in the saloon at 5 pm and after dinner
March 18
March 19
March 20
March 21*
All dinners are served buffet-style.  Please call our office to inquire about the menu and seating times for specific dates.  For *Music & Dining Specials, click here!