We know there are those looking for an adults only ranch vacation. Here it is.
NIEUW!

Toegevoegd Adult Week: Augustus 18-24, 2019
Augustus 25-31, 2019 en september 8-14, 2019–
UITVERKOCHT
Augustus 23-29, 2020 En augustus van 30 september 5, 2020–
30 augustus-september 5, 2020 uitverkocht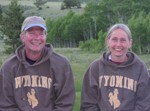 Hoewel de meerderheid van onze zomer is gewijd aan gezinnen met kinderen, een week die is in populariteit gegroeid de afgelopen paar jaar is weer terug! The Adult-Only ranch vacation week is for couples, singles, mensen, en vrouwen. We understand that adults sometimes need their own space. Even those with kids need time away. This adults only ranch vacation is for adults to hang out and experience the ranch lifestyle with other adults looking for the same thing. U zult genieten van paardrijden, wandelen, visvangst, en andere activiteiten op het Vee Bar en 's avonds entertainment en maaltijden. This week sold out since 2013! Houd er rekening mee dat: Het kamp is niet beschikbaar na september 1 elk jaar.
Mijn man en ik hebben een gedeelde vele speciale gelegenheden hier, al is het zes jaar geleden dat we hier zijn, het is leuk om te zien op de kwaliteit van het Vee Bar is niet veranderd. Dank u voor een heerlijk verblijf. We hopen terug te komen opnieuw en opnieuw, en op een dag delen deze bijzondere plek met onze kinderen. –Laton en Paula; Minneapolis, MN