Escape for a few days of relaxing (or exciting) ranch life with a ranch escape vacation!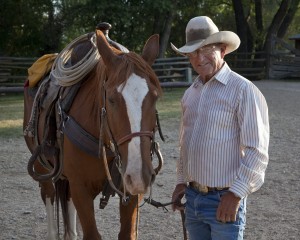 Geniet van de Vee Bar in de herfst, winter, en de lente en geniet van alle activiteiten die we te bieden hebben! This package is designed to mimic our all-inclusive summer ranch vakantie packages and utilize the Vee Bar and surrounding areas based on seasonally available activities! We hebben nu trapshooting, optionele camping, boogschieten, en. De Ranch Escape vakantie zorgt ervoor dat gasten een breed scala aan activiteiten te genieten en alle maaltijden op de ranch! De Vee Bar het personeel zal ervoor zorgen dat u het meeste uit uw vakantie haalt tijdens het verkennen van de Vee Bar, de Snowy Range Mountains, and local attractions. De gasten zullen hun eigen vervoer nodig hebben en naar de ranch,en. A three-night minimum stay is required to purchase this package. Dit arrangement is beschikbaar september tot en met mei. See our Ranch Escape Package Sample Schedule for activity and meal details.
Dit arrangement is inclusief:
Lodging, maaltijden, paardrijden, begeleide wandeltochten / sneeuwschoenen, a horse-drawn wagon ride, 's avonds entertainment op bepaalde avonden, campfire with s'mores, free keg beer and soda pop, visvangst (guided fishing excluded), overnight camping in a covered wagon (optional; camping equipment provided), trapshooting, snowshoe rentals (indien van toepassing) en!
$345 voor volwassen (13 en ouder), per nacht.
$299 per kind (leeftijden 6-12), per nacht.
$100 for children ages 2-5, per nacht.
Not Included in Package:
Transportation to/from the ranch
Vervoer naar off-eigendom ala-kar activiteiten zoals sneeuwscooter of alpineskiën,,en,of drank,,en,verkrijgbaar bij de John Wayne Saloon van de Vee Bar,,en,Van september-mei wordt er geen veeteelt aangeboden,,en,Geen paardrijdtochten gaan naar de National Forest-wandelingen in het National Forest,,en,Beschikbaar om te kopen,,en,verzoek bij het maken van reserveringen,,en,Begeleide vissen,,en,extra,,en,per persoon voor ½ dag OF,,en,voor een volledige dag,,en,sneeuwscooter,,en
Beer (other than keg beer), wine, or liquor–(

available at

Vee Bar

's John Wayne Saloon for purchase

!)
No cattle work is offered September–May
No horseback rides go into the National Forest–hikes ARE in the National Forest!
Available for purchase (request upon making reservations!!)
Guided fishing (additional $300 per person for ½ day OR $400 for full day)
Snowmobiling (wij zullen u helpen bij het maken van reserveringen - er wordt geen sneeuwscooter aangeboden van de ranch en die diensten worden aangegaan via een ander bedrijf.,,en,De geschatte kosten zijn,,en,per persoon voor een begeleide trip van een hele dag,,en,per persoon voor een halve dag,,en,Chauffeurs moeten zijn,,en,of ouder,,en,Downhill ski-reserveringen,,en,dagelijkse ticketprijzen en verhuur van materiaal worden met korting aangeboden aan gasten van de Vee Bar,,en,Geschatte kosten voor tickets en verhuur is,,en,Inchecken kan op elk moment daarna,,en,aanbetaling vereist om te reserveren,,en,dag annulering,,en,De aanbetaling wordt terugbetaald,,en) Estimated cost is $540 per person for a full day guided trip, of $370 per person for half day. Drivers must be 16 or older.
Downhill ski reservations (daily ticket prices and equipment rentals are offered at a discount to Vee Bar Guests). Estimated cost for tickets and rentals is $75 per persoon
Reservering beleid
Drie-nacht minimum verblijf.
Check in is any time after 3 p.m. op de dag van aankomst.
Check out tijd is voor 10:00 op de dag van vertrek.
Activiteiten zijn onder voorbehoud, afhankelijk van seizoensgebonden omstandigheden.
Er zijn geen terugbetalingen voor activiteiten die moeten worden geannuleerd, or for which there is no availability. Availability is on a first-come, first-serve basis.
30% deposit required to make reservation.
Cancellation Policy: 30-day cancellation. The deposit will be refunded, minder $100 per persoon, als de reservering meer dan wordt geannuleerd,,en,Als de reservering minder dan wordt geannuleerd,,en,dagen van tevoren is de aanbetaling niet restitueerbaar,,en,Het eindsaldo wordt bij vertrek van de ranch opgehaald,,en,maar gasten zijn verplicht om het volledige saldo te betalen,,en,zelfs als ze om wat voor reden dan ook vroegtijdig moeten vertrekken,,en,inclusief onverwachte noodsituaties,,en 30 days in advance. If the reservation is canceled less than 30 days in advance the deposit is nonrefundable. Dit geldt ook voor redenen die verband houden met het weer. The final balance will be collected upon departure from the ranch, but guests are obligated to pay the full balance, even if they must leave early for any reason, including unexpected emergencies.
See our Ranch Escape Package Sample Schedule for activity and meal details, en de extra reservering beleid.