Op zoek naar een all-inclusive vakantie ranch? Our Guest Ranch vacation is for you!
Onze all inclusive ranch vakantie is ongeëvenaard! Horseback riding across the Wyoming plains is one of the main activities, but your family will also enjoy hiking in the mountains, River Tubing, trap schieten, visvangst, campouts, wagenritten, musical entertainment, and much more. Een all inclusive ranch vakantie is de perfecte familie vakantie!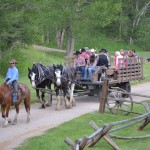 Now taking reservations for 2020! All-inclusive gast ranch pakketten 7 juni–September 5, 2020.
Download 2020 Rate Card
| Alle prijzen zijn per persoon |
Specialty Weeks 2020–MORE INFORMATION COMING SOON
June 1-June 6, 2020, Literatuur en Landschap van het Paard (meer info)

SELLS OUT EARLY
Augustus 23-29, 2020 En 30 augustus–September 5, 2020

Adult Week

(meer info). Informeer bij kantoor voor de tarieven.
Tarieven geldig voor Riverside Suites of Hutten
Guest ranch arrival days are Sunday (6 of 3 nights) & Woensdag (3 nights). Houd er rekening mee dat: 3-'s nachts pakketten zijn beperkt tot data selecteren. Gelieve te informeren naar de beschikbaarheid. See our sample schema for a list of activities. See our specials page for discounts available on these packages!
| 7 juni-september 5, 2020 | 3-nacht | 6-nacht |
| --- | --- | --- |
| Elke volwassen (eerste twee) | $1375 | $2400 |
| Extra volwassenen | $1150 | $2100 |
| Kinderen (leeftijd 6-18) | $1150 | $2100 |
| Kinderen (2-5) | $250 | $460 |
| Eenpersoonsgebruik | $1950 | $3575 |
| Niet-ruiters | $1150 | $2100 |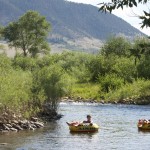 Voeg een zaterdag nacht om uw reservering!
Zomer zaterdagavond B&B tarief (2 mensen)………..$190
Elke extra persoon (leeftijden 6 en up)………………..$60
3 night stays will include only activities scheduled for those specific days.
Accommodaties — Overnachting omvatten zes Riverside Suites
en drie cabines. Elke suite heeft een queensize bed en twee aparte bedden, terwijl de
hutten hebben elk een koningin of koning, een dubbel, en een of twee tweelingen.
Inbegrepen:
Uw eigen paard
'S avonds entertainment
Draadloos internet in lodge en de rivier hutten
Kamp voor de nacht-out
Wasserij
Archery
Dagelijkse schoonmaak
Trap schieten
Rijden instructie
Cattle work
Plezierritjes
Prive-vissen
River Tubing
Alle maaltijden (zien Guest Ranch Restaurant pagina)
Bubbelbad
Transfers to/from Laramie Regional Airport or the Green Ride Colorado Shuttle drop off/pick up location in Laramie.
Keg beer and soda pop
Veel plezier!
Note: there is NO charge/fee for credit card processing
(Prijs pn zal enkel activiteiten gepland voor die specifieke dag.)
ZOMER SATURDAY NIGHT: (Juni 6 – September 6)
1 Night Stay: Zaterdag en zondag ………………………………$190.00
2 mensen in Riverside Suite of Cabin
Elke extra persoon (leeftijden 6 en up) …………………………..$60.00
Inclusief Zondag Ontbijt
Reservering Beleid:
A non-refundable deposit of 30% van de Guest Ranch reserveren is vereist. A non-refundable deposit of 50% is vereist wanneer gehele ranch is gereserveerd voor een groep.
Reserveringen worden beschouwd als fatale alleen wanneer de aanbetaling is ontvangen.
The deposit is due within 60 days of making the reservation when it is made more than 1 year in advance.
If your reservation is canceled less than 30 dagen van tevoren een annuleringskosten in rekening die gelijk is aan 40% of the reservation is due.
If members of your family/group cancel less than 30 days in advance, there will be a cancellation fee equal to 40% of their reservation, even when the cabin is still reserved by some of your members.
Betaling contant, persoonlijke cheque, reischeques, VISA, MasterCard, American Express of Discover.
Balance is collected upon departure. At the time of check-in, gasten zijn verplicht om het volledige bedrag van hun verblijf te betalen, zelfs als ze vroeg moeten laten voor elk soort noodsituatie.
Een service charge van 15% en toepasselijke staat en county verkoop belasting zal worden toegevoegd aan de uiteindelijke accommodatie wetsvoorstel.
Check-in tijd is 3 p.m., en check-out tijd is 10 a.m.
Roken is niet toegestaan ​​in de structuren.
Geen huisdieren toegestaan.
De Vee Bar een zwijgplicht beleid.