The Vee Bar has modern, yet rustic, cabins for your next Wyoming summer vacation.
Perfect for a week-long Wyoming summer vacation or a weekend getaway, our cabins are within biking distance of the Snowy Range Mountains. These cozy, comfortable cabins have decks and chairs just right for relaxing with a good book, daydreaming or visiting with new friends. Deer, rabbits, chipmunks and squirrels wander the grounds among the cabins, and the peaceful sound of the Little Laramie River flowing just outside the cabins is the perfect nighttime lullaby. Whether you are looking for a romantic mountain getaway or a rough and tumble Wyoming summer vacation with your family, these warm and inviting cabins will suite you perfectly.
"The Vee Bar is a ranch where you so quickly feel at home- the wonderful
hospitality, comfortable accommodations and friendly folks all help to make
it a true home away from home. Truly a ranch to be proud of."
–Bobbi & Jim Futterer, The Dude Rancher's Association
Riverside Suites (2 Sleeping areas, 1 bath)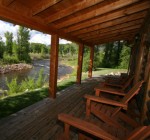 The rustic exterior and interior of the Riverside Suites match the rustic look of the historic lodge built in the 1800's. The interiors offer modern conveniences surrounded in antique furnishings preserved from ranching days. The Riverside Suites, located near the lodge & hot tub include two private bedrooms, full bath, small refrigerator, coffee maker, hair dryer. All are within walking distance to the lodge and sit along the banks of the Little Laramie River. (Pictures of Riverside Suites)
Take a quick tour of our Riverside Suite cabin #9. Wouldn't you like to be here??
 Cabins 1, 2, 3 — (2-3 Sleeping areas, 1 bath)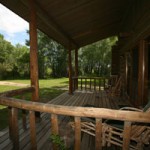 The more secluded Vee Bar Ranch Cabins are nestled among the trees farther away from the lodge. Two of the cabins have two to three sleeping areas and bathroom with a coffee maker, small refrigerator and hair dryer. Two of the cabins have cozy lofts, while the third is designed on one level. Each cabin is heated primarily by a gas fireplace. (Pictures of Cabins)
Take a tour of Cabin #3. This cabin is also right next to the river.